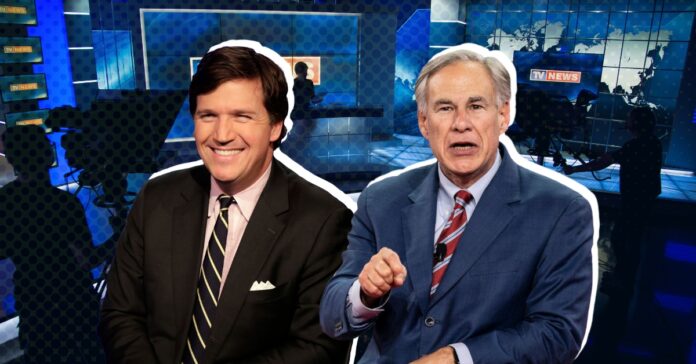 Texas Governor Greg Abbott criticized Dominion Voting Systems after it was reported that Tucker Carlson, a popular conservative host on Fox News, was fired from the network as part of the massive, $787.5 million settlement with Dominion.
Carlson claims he was told by a member of the network's board of directors that he was taken off the air as part of the Fox News settlement with Dominion, according to Axios. Abbott said if the reporting was true, then he is "happy that Dominion does not operate in Texas."
"We may disagree with other's positions, but we should never try to improperly silence views contrary to our own," Abbott said on Twitter on Saturday. "If Dominion wants to do business with Texas in the future, they should first answer questions about what role, if any, they played in silencing a prominent conservative journalist."
However, a Fox News spokesperson and a Dominion attorney denied the claim. Carlson's departure came shortly after Fox News settled a defamation lawsuit with Dominion. His contract with Fox News runs until 2025 but includes a non-compete provision, which limits his ability to launch another show.
Carlson announced last week that he plans to move his show to Twitter. Abbott said that if the reports were true, he was happy that Dominion does not operate in Texas and that the company should answer questions about its role in the alleged silencing of a conservative journalist.