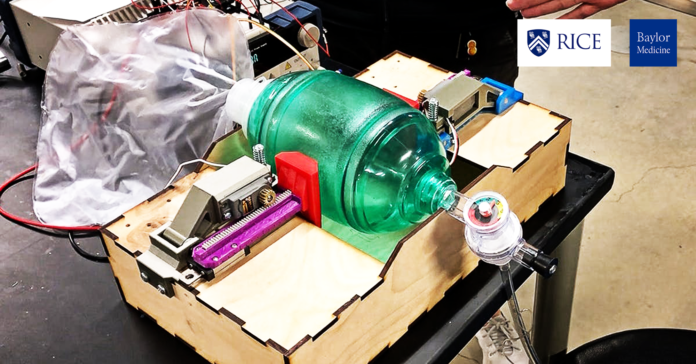 Researchers at colleges and universities in Texas are contributing their skills, creativity and time in the fight against coronavirus disease. Their contributions to the development of equipment available data could have long-term lifesaving effects.
In Houston, an undergraduate student and team of faculty members at Rice University have developed a cheaper ventilator, nicknamed ApolloBVM. 
The prototype is a lifesaving emergency solution for Houston hospitals, costing less than $200 to produce and weighing just eight pounds. It has 80 percent of the functionality of a full-size ventilator.
ApolloBVM could also take the place of a nurse having to manually pump air into a patient's lungs using a bag-valve mask. The mask method is slower and less effective than an automatic ventilator, and it increases exposure and risk of infection for medical professionals. The prototype works through two "arms" automatically pumping the valve.
At the University of Texas at Austin, students at the university's Pharmaceutical Engineering and 3D Printing Lab are 3-D printing face shields to relieve some pressure on the shortage of masks. 
Pharme3D is also developing a design for a 3-D-printed extension for a ventilator that would safely allow one ventilator to help three or four patients.
Researchers at UT's Cockrell School of Engineering's Texas Inventionworks and Dell Medical School plan to print face masks featuring a reusable plastic shield and a replaceable filter. 
The application of data science can help Texans make informed decisions and respond with preparedness.
Researchers in the Center for Research Computing's Spatial Studies Lab at Rice University have developed an interactive map of coronavirus data, using data from the Texas Department of State Health Services and Definitive Healthcare. 
But a key difference is that the map developed by Rice seeks to expand on vital data, rather than duplicate it. These statistics include the number of people tested across the state, the current hospital bed utilization rate and the numbers of staffed beds and intensive care beds in Texas hospitals.
"Now that the Texas Division of Emergency Management released its own GIS hub, our dashboard will move away from duplicating information in order to correlate other numbers such as those of available beds and the potential for increasing the number of beds in relation to the location of available COVID providers," project lead and director of Rice's Humanities Research Center Farès el-Dahdah said in a Rice press release.
"We're now adding another layer, which is the number of available nurses," el-Dahdah said. "Because if this explodes, as a doctor friend recently told me, we could be running out of nurses before running out of beds."
A pair of online surveys with ties to Rice University seek to paint a statistical portrait of the effects of the coronavirus pandemic on Houston and the world.
The COVID-19 Registry — built on a similar tool Rice helped craft after Hurricane Harvey — went live Friday and is designed to compile a demographic portrait of the pandemic's local impact.
CovidSense.org — an independent project from professors at Rice and Baylor — also launched Thursday aiming to take a global approach about the pandemic's effects and hoping to attract respondents from all over the world.
"We are asking people anywhere in the world to participate in this citizen science study to help us understand how COVID-19 is impacting lives," CovidSense Co-Principal Investigator Ashok Veeraraghavan said in a Rice University press release.