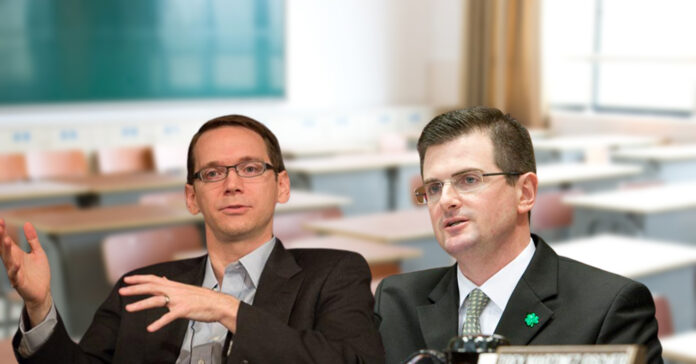 On Tuesday, the Texas Senate Education Committee had their first interim hearing chaired by Sen. Brandon Creighton (R-Conroe), that addressed COVID's impact on the teacher pipeline, bond efficiency and homestead exemption.

Earlier in the year, Lt. Gov. Dan Patrick restructured the committee, relegating higher education to a subcommittee within the education committee to better "align" policies from K-12 through college and workforce development during next year's legislative session.

The main issue discussed in the hearing focused on how the pandemic has brought the brewing discontent among school teachers and staff to its boiling point.

Creighton asked the Committee if teacher attrition was a national or Texas issue. And even if there is a national increase, many of the stressors Texas educators cite are specifically tied to Texas legislation mandates.

Education Commissioner Mike Morath acknowledged that educators have begun to exit the profession at a precipitous rate. Plus, there has been a steep decline in interest in entering the teaching profession.

According to a Texas American Federation of Teachers survey, the top factors contributing to educator attrition are: pay, working conditions, and training and development.

Looking first into the school finance bill that was passed in 2019, House Bill 3, which led to an average $3,800 salary bump — the number varied by district. The bill that was supposed to provide more money for Texas classrooms, and increase teacher compensation, however in many cases this has been wiped out by inflation and increases in the cost of healthcare.

On average and adjusted for inflation, educators are making 4 percent less than in 2010. Texas teachers made $6,554 less in 2019-20 and $7,449 less for the 2020-21 school year.

Moving on to the state's educator prep programs, Morath said there was not a significant state investment, so teachers largely pay for their prep on their own.

According to The Dallas Morning News, Texas experts have described the state's teachers' prep landscape as the "wild west." The minimal state requirements and feeble oversight could be making the teacher shortage worse.

The majority of state's new teachers in the state do not even see a classroom directly after graduating college, and instead find their way to campuses through alternative certification programs that do not always follow rigorous curriculum, which leads to novice teachers that have less impact on student academic growth than more experienced ones.
When giving an update on House Bill 4545, the law that requires accelerated instruction (primarily via tutoring) for kids who fail STAAR, Sen. José Menéndez said he's received numerous complaints about the bill, which while well-intentioned, placed a great deal of additional (uncompensated) stress on educators.
There were more than 2 million failed tests among elementary/middle schoolers, but not everyone is likely to get the tutoring required. According to Morath, about $3.98 billion of federal aid was allocated for tutoring but only $74 million of federal Elementary and Secondary School Emergency Relief (ESSER) funds were spent by districts on tutoring as of May 2022.
Most of these tutors are only available online – ironic given the learning losses sustained during online learning throughout the pandemic.

In addition, the accelerated instruction required under HB 4545 and reading academies adds to the demands on educators' time, which is already stretched thin. Teachers have to both design and deliver instruction to students, which is like working two jobs.
The STAAR test has always had its critics, lawmakers and teachers unions have been calling on the state to get rid of the exam for years.
Monty Exter, a lobbyist with the Association of Texas Professional Educators, believes the STAAR test incentivizes schools to teach for the test instead of taking a holistic approach to teaching.
Agreeing with Exter is Sen. Beverly Powell, who during the committee shared a moving text from her 3rd grade granddaughter stressing about the STAAR test. She emphasized that opposition to the exam is not opposition to testing, but all the pressure and stakes tied to it, both for educators and students.