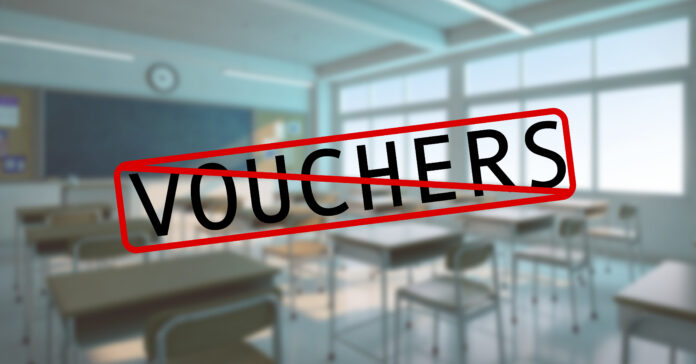 Governor Greg Abbott and other far-right Texas Republicans will be fighting an even steeper hill when it comes to the school voucher programs they hope to enact in the next legislative session. The Republican-controlled State Board of Education voted 11-2 to reject school vouchers earlier this month.
For years, school vouchers have been a pet project of far-right Texas Republicans. Backed by huge campaign contributions from oil moguls Tim Dunn and Farris Wilks, the push has been repeatedly framed as giving parents more choices when it comes to sending their children to public schools. The goal is to allow tax money to be spent sending children to private, often conservative religious schools while secular public schools wither from lack of resources. Much of the backlash against "critical race theory" and the inclusion of gender and sexual orientation diversity in curriculums has been driven by the voucher movement, something that conservative thought leader Christopher Rufo openly admits.
While less extreme Texas Republicans have been willing to go along with bans on teaching about white supremacy and the stripping of books about marginalized people from libraries, they have been more resistant to the voucher plot. Even though Abbott campaigned partially on school choice, it's becoming less likely based on his caucus' actions and statements.
Pat Hardy, a Republican representing District 11, abstained from voting, but told Spectrum News that vouchers divert attention away from failing public schools.
"We don't need to just automatically say, 'We want vouchers,'" he said. "We need to see what the problems are, and how these vouchers might correct or create more problems. Oftentimes, we do things that we think sound good, and in reality, it creates a greater problem."
Outside of the School Board, rural Republicans in the legislature have generally been opposed to voucher systems. Local public school districts are often the lifeblood of rural communities, employing people and serving as social organs. Rural Texans are less likely to have a nearby private school option, and would feel the pinch if their districts started to be drained of resources.
Several legislators spoke to The Texas Tribune with clear disdain for vouchers.
"If I have anything to say about it, it's dead on arrival," said Rep. Ken King (R-Canadian). "It's horrible for rural Texas. It's horrible for all of Texas."
"I prefer to reduce their property taxes, so they have the option of spending that money any way they choose, whether it be alternative education choices, saving for college or purchasing a new car," said Rep. Gary VanDeaver (R-New Boston). "Proponents of expanding school choice options often say the money should follow the student. Current Texas law already does that if a student transfers to another public school, including a charter school."
Republicans control both Houses in the legislature. They can only afford 12 defections in the lower chamber, 4 in the Senate before a bill is killed. As the rural Texas delegates form a significant portion of Abbott's power base, he may not be able to push vouchers through.