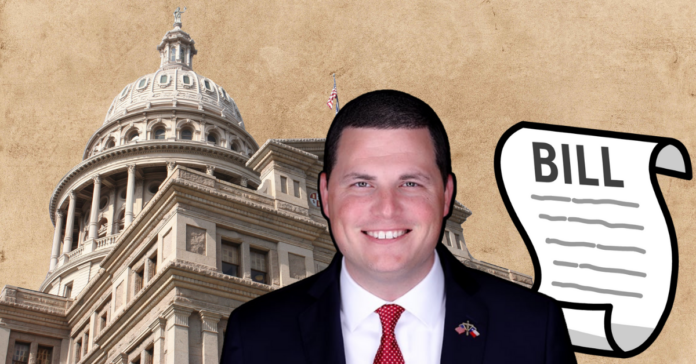 Rep. Jared Patterson (R-Dallas) has filed a bill to end tax subsidies for businesses that help employees obtain abortions.
Since reproductive choice was overturned as a constitutional right by he Supreme Court earlier this year, it has become very difficult for Texans to obtain abortions. Doctors can only perform them in lifesaving circumstances, which has led to a horrific trail of blood as medical professionals try to navigate the nebulously worded statutes. Medication-induced abortions are still available through the mail and are being protected by an executive order from President Joe Biden. Many Texans simply go to other states such as New Mexico where the procedure is still legal.
That's where some companies with large workforces in Texas come in. Lyft, Uber, CitiGroup, Walmart, Apple, Tesla, Amazon, Starbucks, and more have all pledged to help their workers seek reproductive care. This ranges from approving time off to paying for out of state travel.
Patterson's House Bill 787 reads:
"A business entity is ineligible to receive a tax incentive if the entity assists an employee too obtain an abortion, including by paying all or part of any charges associated with the procedure or costs associated with traveling to a location for the procedure."
No further fines or charges are listed in the bill. It currently has no sponsors.
While Patterson stands alone at the moment, there has been significant movement since the summer to punish companies that thwart the state's stranglehold on reproductive choice. Fourteen Republicans in the House, led by Rep. Briscoe Caine (R-Deer Park) pledged to introduce similar bills following the overturning of Roe v. Wade. The last legislative session was marked by similar ideological interferences in business, including a bill punishing companies that refused to invest in gun manufacturers.
Despite Texas' reputation as a pro-business state, Texas Republicans have become more willing to wage culture wars on businesses. Or, to at least harm their employees to score points with their far-right base. A recent survey of executives in the state showed that employee retention was the most pressing concern for companies in Texas.
This likely has to do with anti-immigrant policies crippling hiring in low wage jobs as well as brain drain in the upper echelons as out-of-state talent refuses to work in a place with virtually no reproductive choice that is also waging an institutional harassment campaign against trans children.
If Patterson's bill gains ground, businesses will be forced to choose between supporting their employees and losing tax benefits. Either way, it further reduces enticement to relocate or stay in the state.
The 88th Texas Legislative Session begins on January 10.