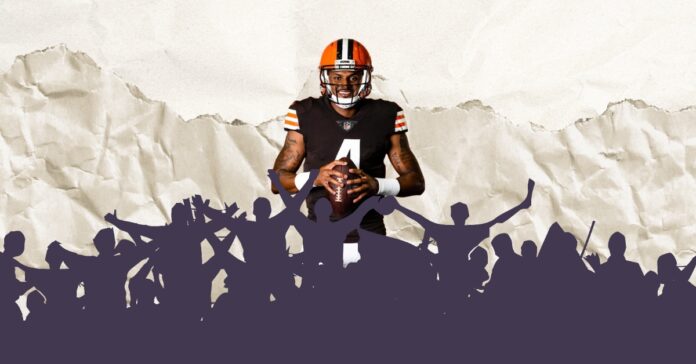 Former Houston Texans quarterback Deshaun Watson returns to Texas this week as a member of the Cleveland Browns after serving his 11-game suspension by the NFL for allegations of more than 20 instances of sexual misconduct during massage-therapy sessions.
NFL Network's Ian Rapoport reported that Watson has complied with the terms of his suspension and will start for the Browns this Sunday, marking a 700-day absence from the game.
But Watson may see some familiar faces in the crowd — 10 of the women who accused Watson of sexual harassment and assault during massages — will be in attendance for Sunday's game at Houston's NRG Stadium, said the plaintiff's attorney Tony Buzbee.
While two Texas grand juries declined to indict the 27-year-old on criminal charges, 25 women represented by Buzbee filed civil lawsuits against Watson.
Buzbee added that the goal is "to kind of make the statement, 'Hey we're still here. We matter. Our voice was heard and this is not something that's over. [Sexual harassment and assault] happen every day in the United States.'"
The women declined to comment ahead of Sunday's game, Buzbee noted.
Watson was accused of multiple incidents of sexual misconduct, including harassment and assault, since 2021. The women alleged he exposed himself, touched them, kissed them, and initiated oral sex or manual stimulation against their will during the sessions.
In July, 30 women who had accused the Texans of being complicit in Watson's actions settled their legal claims against the team.
Watson, drafted 12th overall by the Texans in 2017, was also fined $5 million by the NFL for misconduct detrimental to the league's reputation.
But his new Browns contract will pay him a guaranteed $230 million, one of the richest in NFL history.
Although nearly all cases against Watson have been resolved, some of the accusers aren't ready to completely move on, said Buzbee.
"I think it's important to note each of these women is different," he told ESPN on Tuesday. "… I would never encourage any of them to attend. Some never want to hear Watson's name again. Others have put it in the past. Some are still angry. Others are defiant. Makes me proud they want to stand up and be counted rather than quietly go away."
Watson's lead attorney, Rusty Hardin, declined to comment on Watson's return, citing confidentiality agreements from the settled lawsuits.
However, at least two suits remain pending.
One woman represented by Buzbee, Lauren Baxley, declined to settle, and he expects the case will go to trial, and another suit was just filed last month by a woman who alleges that Watson pressured her into oral sex.
A report by The New York Times claims that Watson received massage services from at least 66 women over 17 months — equating to a new masseuse every eight days. It also claimed that the Texans, knowingly or not, helped facilitate Watson's desire to meet with multiple therapists, providing him with a facility to meet with them.
Watson, who was traded to the Browns in March, will meet with the press this week before the game, and of course, the allegations that cost him his position with the Texans will be front and center.
The Texans traded Watson for first-round picks in 2022, 2023, and 2024; a third-round pick in 2022; and a fourth-round pick in 2024. That resulted in Houston acquiring the 13th and 107th overall picks of the 2022 NFL Draft.
The last time he spoke to reporters in Cleveland, he reiterated that he did nothing wrong.
Early in Watson's career, he seemed to be the franchise quarterback the Houston franchise had been searching for since they entered the NFL as an expansion team in 2002.
Among his many accolades are the following — Three-time Pro Bowl team member (2018–2020); NFL passing yards leader (2020); NCAA national champion (2016); NCAA National Championship Offensive MVP (2016); Best Male College Athlete ESPY Award (2017)
But then, without warning, his story became a cautionary tale about fame, fortune, and a perceived privilege — as the ugly allegations began to surface, and after nearly 30 women came forward, the Texan's franchise decided to trade the star.
According to one filing, Watson reached out to one of the plaintiffs via Instagram on Dec. 17, 2020, to ask about possible massage services, the method Watson had allegedly been using for contacting the women in other suits as well.
The woman, who had been working from home due to the COVID-19 pandemic, was "actively trying to grow her business," and was "excited and encouraged" that a professional athlete of Watson's stature would seek her services, and they arranged to meet at the Houstonian Hotel.
But as she was setting up her massage equipment she claims Watson came out of the bathroom wearing only a towel and "continually pressured [her] into massaging his private area."
She alleged that Watson asked her to have sex with him, but she says she refused, but finally gave in, and "he was able to pressure her into oral sex." She claims he paid double the agreed rate and kept contacting her via text asking to see her again.
The woman is now seeking "minimal compensatory damages" and strongly criticized Watson for "[using] his celebrity to take advantage of a young woman working hard for her success."