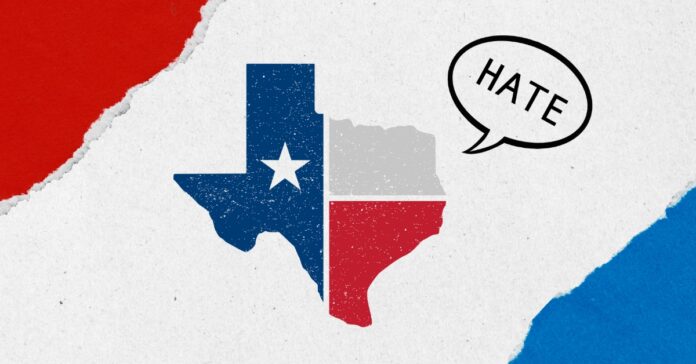 As Jewish Texans see surges in antisemitic-fueled crimes, other minority groups have also experienced recent retribution for being different from those who are not like them, the persecution of those deemed "the other" is nothing new in Texas.
Echoed on social media and extremist websites, antisemitism, anti-Asian, anti-LGBTQ and other hate speech and rhetoric have exploded in the period since the election of former president Trump, not only in Texas but across the nation. Counties that hosted a 2016 Trump rally saw a 226 percent increase in hate crimes that year, according to the Washington Post.
And it has escalated since he was defeated despite his denial, and just this past week he met with known anti-semites Kanye West, now known as Ye, and Nick Fuentes, a virulent and avowed Holocaust denier.
The current trends in crimes perpetrated by white citizens against minorities, such as the Texas Jewish community, are reflective of a stark rise of white supremacist groups. 
Yet, older groups like the Ku Klux Klan continue to see diminished numbers, as the power of the internet and social media communication replaced meetings around fiery crosses.
And the proliferation of the new white supremacy, neo-nazi and neo-fascist groups have co-mingled with far-right extremist groups such as the Oath Keepers, whose members were convicted Tuesday of sedition for their role in the January 6 Capitol insurrection.
"This is part and parcel of a broader resurgence of white supremacy," said David Michael Smith, a former college professor and longtime anti-fascist activist in Texas.
Perhaps most disturbing is the precipitous rise is not only reflected in criminal activity but a far-right shift in social attitudes. And those extreme views have reached GOP-dominated state governments and local school boards. 
In Texas and across the country, school officials are forced to pull educational materials from classrooms, and limits are being placed on how the history of racism is to be taught, so as not to upset white children. Young Adult reading level books are being challenged at every turn and removed from school libraries and classrooms, so as not to "encourage" alternative lifestyles.
Meanwhile, every child old enough to understand how to access the internet can come across the most reprehensible misguided, misinformed, and dangerous radical ideologies.
And recent political science studies tell us that violent bigotry, whether toward Jews, other ethnicities, minorities, or homosexuals, is a precursor to fascism, historically resulting in genocide and war.
According to the Anti-Defamation League, Texas saw 112 antisemitic incidents in 2021 — almost triple since 2020 — and the state is on pace to eclipse that record this year.
In Central Texas, a series of antisemitic incidents, including a recent arsonist attack at the Congregation Beth Israel, are examples of the highest level of crime against their communities in decades. It came three years after a hostage situation occurred at a North Texas synagogue.
And of course, they have to have very difficult, yet culturally familiar, conversations about the danger with their children. Lori Adelman, a congregation leader, had to have that talk with her daughter Sarah.
"We have to regularly have conversations with children about people wanting to hurt us," Adelman said. "It's terrifying, but what choice do we have? We're not going to just hide."
"It made me sad and really scared," 10-year-old Sarah said last week. "It made me nervous for my mom."
And immigrant groups — Latinos, and Muslims, among others — are also targets of a new wave of radical activities by so-called "Christian Nationalists." In the decades since the 9-11 bombing and the latest influx of asylum seekers, these groups are marked for violent retribution for simply being non-white.
The result is increasingly frequent hate crimes including mass shooter incidents across Texas and the U.S., such as the El Paso shooting at a Latino community shopping mall. This seemingly new generation of extremists is growing in number.
Following the Covid-19 misinformation campaign perpetrated by extremists online, Asian Americans are also increasingly experiencing hate crimes, as Texas was ranked 4th highest with 103 cases, according to Stop AAPI Hate. Since it was reported the virus came from China, suddenly all Asians were apparently to blame.
It marks the starkest increase in the state since the 1970s and 1980s Vietnamese communities' bloody battles with the KKK Grand Dragon, Louis Beam, in coastal Texas over shrimping and fishing rights.
Black Americans are still victims of hate crimes as much as any other group over the last decade. Although it has been over 20 years since James Byrd Jr. was dragged to death in Texas, hate crimes have exploded despite the 2009 federal law expanding hate crime legislation that bears his name.
Yet despite the high rate and the hate crimes law, only 100 hate crimes against African Americans have been pursued by federal prosecutors between January 2010 and July 2018.
LGBTQ citizens are under fire — from extremist gunmen to Republican lawmakers to overzealous school board members — across the nation and the state.
Even though it has been over 30 years since the 1991 brutal beating death of Paul Broussard in the Montrose area of Houston, the gay community has never forgotten those ten young, anti-gay extremists. The perpetrators, all from a suburban community of The Woodland's Texas, came to the area to deal death to innocent dance club patrons simply because of their sexual orientation.
Law enforcement has not historically been proactive in protecting minority communities in Texas, often underestimating the danger. Following Broussard's murder, they decided to see for themselves.
"HPD put into place an operation called Operation Vice Versa. What they would do was have police officers masquerade as gay men and they would walk through the gay bar district and that was to test the level of violence they encountered," said Andrew Edmonson, Houston LGBTQ+ activist.
"What happened was the cops got beaten up and the response was so intense and so overwhelming, that they pulled the cops off the streets, they stopped Operation Vice Versa."
And Texas has a long history — as bloody and violent as any state — when it comes to crimes committed against non-whites.
The Texas Rangers, now part of the Texas Department of Public Safety, were originally organized to battle native Americans, capture runaway slaves, and oppress Mexican Americans who were all residents of Texas long before the Texas Revolution.
But today, they are responsible for helping to protect those minorities and the public, despite mixed results, such as the outcome of investigations in the Uvalde shooting. Texas Rangers Chief Chance Collins retired in September due to pressure resulting from the incident, according to Ericka Miller, a spokesperson for DPS.