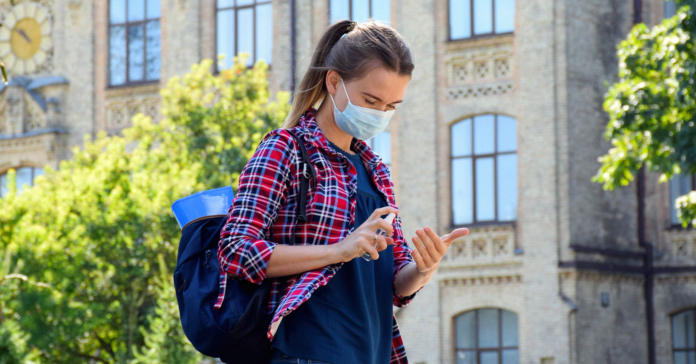 Would-be college freshmen are confronting tough choices when it comes to deciding whether to stay local or go away to college in the age of the pandemic.
"Although the question of whether to stay close to home or branch out has always played a big role in students' decision making, it is even more of a factor during the current pandemic, and we've heard this from a number of students and parents," Texas A&M University Executive Director of Admissions Chris Reed said Wednesday.
"Many students who elected to enroll at a school outside of their local area did take advantage of the ability to begin their attendance remotely, and the continuation of that option may remove some of the stress of students' decisions while it remains viable," said Reed.
Tuition costs are playing a big role.
"The big question that is front of mind for many enrollment managers currently is whether the financial strain of this continuing crisis may finally reach the point where it drives students to remain close to home or forego college altogether due to lost family income and/or cost in spite of their desire to enroll elsewhere," Reed explained.
Student Concerns
According to Ali Mathe, assistant director of Recruitment & Undergraduate Admissions at Texas A&M University-Central Texas in Killeen, there are three concerns incoming students have: course modality, the cost difference between attending in-person or remotely, and what the school is doing to keep students safe during the pandemic.
Families are weighing the financial factor of staying local or attending another university farther away from home. "Money can be saved by living at home, taking classes at the same time and still getting a quality education, she said.
Mathe said the university's virtual information sessions on Facebook, which highlight academic programs and explain how courses will prepare students for their careers, have helped with recruitment since the pandemic began.
"During these challenging times the University of Houston has been operating with compassion and flexibility, key ingredients to our students' success," said Mara Affre, University of Houston Associate Vice President for Enrollment Services.
"Admitted students will participate in new student orientation over the summer and will select their courses at that time," Affre explained.
At the University of Houston, a variety of course options are available during the pandemic including traditional face-to-face courses, as well as HyFlex, hybrid, online synchronous, and online asynchronous courses.
On-Campus Concerns
"No doubt, for most families there's heightened anxiety about sending your kids off to college, and young adults choosing to go away," said Samuel E. Fiala, associate professor and the chair of the Department of Counseling and Psychology in the College of Education and Human Development at Texas A&M University-Central Texas.
Fiala said that for many students that idea of what college was going to be has been shaken, and students are now being introduced to a lot of unknowns. He is concerned that college students deciding to live on campus could become isolated in their dorms without as much social interaction on campus because of the pandemic.
He said that if students can't make new connections with new friends and are alone, it's the perfect recipe for depression.
On the other hand, there may be less opportunity for binge drinking and risky sexual activity that so often define that first year of college, Fiala noted. 
"Without warning, students have been expected to make several changes at once (e.g., attend online classes, limit their social interactions) and that has an impact," said Dr. Morgan McCain, a psychologist at the University of Houston Counseling and Psychological Services (CAPS).
"Unexpected transitions are especially stressful and chronic stress impacts our mental health," added Dr. McCain.
McCain says that students' hopes, dreams, and fantasies about "college life" may look different than what was originally imagined. "The grieving is valid and worth mourning," she says. "However, nothing, including grief, lasts forever."
McCain suggests that students try to practice patience, flexibility and gratitude. "You may just find that this experience will add to the stories you reflect on later about "college life," rather than take something away," she said.
Dr. Marti Trummer-Cabrera, CAPS assistant director for Outreach, suggests that high school seniors facing the uncertainty of college life, connect with professors, campus offices, and student groups early.
"In times of uncertainty, feeling the support of and getting direction from your campus community gives a sense that, even if we don't know how things are going to be, we know that we will not be alone in navigating it," said Trummer-Cabrera.
Weighing the Health Risk
There are risks that come with both remote and on-campus learning.
Students who study at home will have reduced contact with other students, but they could be an exposure risk for their parents. If they instead choose to go away to school and live in a dormitory or a fraternity/sorority house, they will face increased risk of infection.
Since tuition is not adjusted downward when classes are kept virtual, the only advantage to going away to school is the social interaction. And that is the highest risk part of the college experience, according to Dr. Charles Lerner, a San Antonio Infectious Disease specialist and member of the Texas Medical Association COVID-19 Task Force.
Another problem families are facing is how to handle their college student visiting home for the holidays.
"Since the student may not be aware of their infection and their ability to infect others, the only safe way to return home for the holidays is for the student to strictly quarantine themselves for a period of 14-days before returning home, explained Lerner.
If students are traveling by plane, the 14-day count starts after arrival.
"A strict quarantine is very difficult to do properly," Lerner said.
Here more about life lessons college students in Texas have learned during the pandemic, which has truly hampered the college experience.