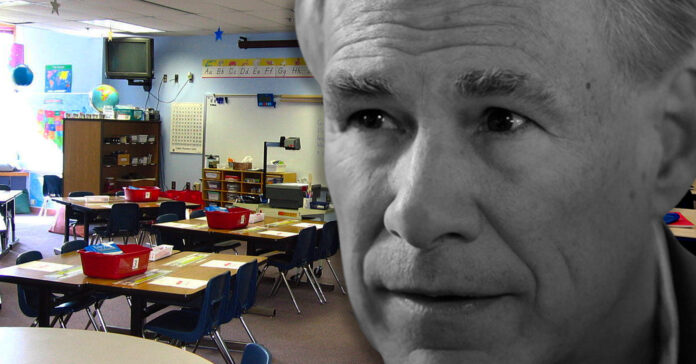 On Monday, Gov. Greg Abbott sent a letter to the Texas Education Agency, asking them to create a task force to help school districts respond to the ongoing staff shortages.

Abbott has spent the last few months attacking schools, from supporting a ban on "critical race theory," to going all Fahrenheit 451 on library staff. He also tried to ban school mask mandates, igniting feuds between parents and teachers, while ignoring their pleas as the pandemic took a toll on public schools.

As the discontent over the disruption in schools grew, the Governor deliberately looked the other way – even as roughly 200 Texas school districts temporarily shut down in January. Abbott's primary focus was on getting his "Parents Bill of Rights" added to the Texas Constitution.

However, after cruising to victory on election night, he suddenly decided public educators deserve his attention. How convenient, right?

Abbott's letter to TEA Commissioner Mike Morath says the task force should look into the issues teacher vacancies cause for districts to find the best way to address the shortages.

"Teachers play a critical role in the development and long-term success of our students. This task force should work diligently to ensure that best practices and resources for recruitment and retention are provided to districts to ensure the learning environment of Texas students is not interrupted by the absence of a qualified teacher," Abbott said.
Teacher shortages stormed Texas.

The Houston Independent School District, the largest district in the state, had more than 700 vacant positions last summer, according to The Texas Tribune.

In February, a Texas American Federation of Teachers survey of 3,800 of its members found that 66% of educators throughout Texas said they have recently considered leaving their job.

Abbott needs to turn things around, to make sure teachers feel heard and are given respect.

Shannon Holmes, executive director of the Association of Texas Professional Educators, said in a statement that he hopes his organization is included on the task force as it would ensure the voices of educators are heard.

"We hope [the task force] produces collaboration between education leaders at the state and district levels — something that has too often been missing during the past several years," Holmes said.