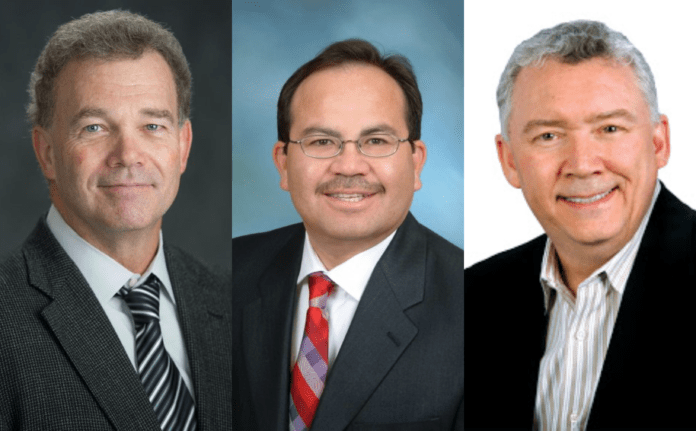 (From left to right: State Rep. Joe Pickett, Art Fierro, Dr. Michiel Noe)
On Friday, December 21st, Governor Greg Abbott issued a proclamation announcing Tuesday, January 29, 2019 as the special election date to fill the Texas House of Representatives District soon to be vacated by Representative Joe Pickett, who is retiring from the Legislature.
As Reform Austin previously reported, Pickett, a 12-term Democratic member representing District 79 in El Paso County, announced he is stepping down on January 4, 2019, due to ongoing health problems.
Two candidates have already declared their intention to run or expressed interest in doing so, including the chairman of the El Paso Community College board Art Fierro and outgoing El Paso City Council member Dr. Michiel Noe.
Candidates who wish to have their name on the ballot for the special election have to file with the Secretary of State no later than 5:00 pm on January 3, 2019. Early voting for the House District 79 seat will begin on Monday, January 14, 2019.
Texas House District 79 is located in northeastern El Paso County, and includes portions of the city of El Paso and Fort Bliss.
Joe Pickett was first elected to represent House District 79 in 1994. During his tenure he authored more than 120 bills and two constitutional amendments. He has served as Chair (twice) of the Transportation Committee, Chair of the Defense & Veterans Affairs Committee and Chair of the Homeland Security and Department of Public Safety Committee. During the 85th legislative session, Pickett chaired the House Environmental Regulation Committee.
Reform Austin will continue to follow and report on developments related to the House District 79 special election and the upcoming 86th legislative session.