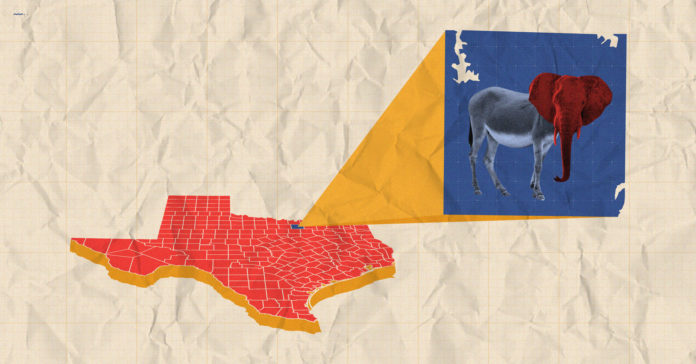 It wasn't enough to complete the transformation from red to blue, but analysis of last week's election returns show it wasn't a total loss for Texas Democrats. Many suburban areas of the state that have long been considered bastions for the Republican party are increasingly leaning left.
President-elect Joe Biden won Tarrant County, which hasn't voted for a Democrat for president since 1954. He also won Williamson and Hays counties, two more long-standing Republican strongholds.
"As Tarrant County gets younger and more diverse, it's no surprise that voters embraced Joe Biden's vision for an America that includes everyone and have rejected Donald Trump's divisive politics," Texas House Democratic Caucus Chair Chris Turner (D -Arlington) told the Dallas Morning News.
Biden also did well in several other traditionally red areas. He won eight Republican-held Texas House districts (HD-26, HD-66, HD-67, HD-96, HD-108, HD-112, HD-134, and HD-138). That puts him on top in a total of 75 House districts. His victories at the top of the ticket just didn't trickle down to the Democratic candidates running in the battleground down-ballot House races.
In Collin County, north of Dallas, Biden didn't win, but he shaved 12 points off Trump's performance from four years ago. In Denton County, Biden lost to Trump by 8 points, which was far less than the 20 points Hilary Clinton lost that county by.
"Although progress can feel slow at times, progress was made in the 2020 November elections. Texas Democrats again cut the statewide gap, broke turnout records, cast the third most votes for Joe Biden out of all 50 states, and won down-ballot races across the state.
"Importantly, Texas Democrats were able to hold the gains we made in 2016 and 2018 in the face of the biggest pandemic in American history and relentless Republican voter suppression. We stood our ground and marched forward, but we know we can do so much more.
RA News' analysis finds there were three election trends going on in Texas, and they were largely driven by race, with Biden performing well among white and Black voters, but losing the Hispanic vote in the valley to President Donald Trump.
In the end, Democrats just didn't turn out in the numbers needed for Biden to overtake Trump statewide. Democrats will face even bigger hurdles with the midterm elections in 2022 and the next presidential race in 2024, both of which will follow redistricting that will be engineered by the Republican-led majority in Austin.