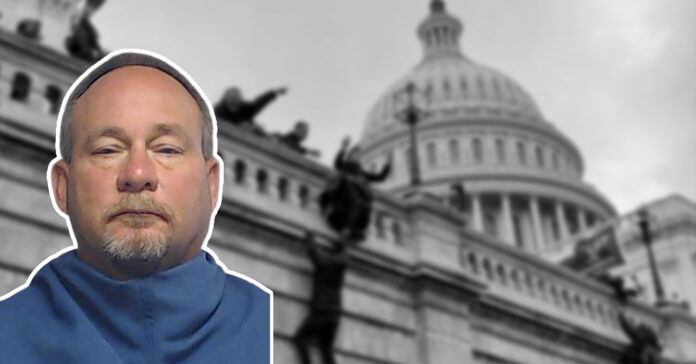 Around a year ago, Mark Middleton, a North Texas man, was participating in the U.S. Capitol riot and now he is running for a Texas House seat.

Middleton, who is facing federal charges for allegedly assaulting police officers during the Jan. 6 insurrection and siege at the U.S. Capitol is challenging incumbent GOP Rep. David Spiller of Kacksboro in House District 68.
The state Republican Party has accepted Middleton's application to be a candidate in the March 1 primary, as reported by The Dallas Morning News.

According to jail records, Middleton and his wife Jalise, were arrested and released in April from the Collin County jail. They were captured on video and in photographs participating in the riot.
In the complaint, the FBI obtained body camera video that shows Mark Middleton, pushing against Capitol barricades and yelling at police officers.
When an officer yelled for people to "get back," Mark Middleton responded by saying, "F*** you," the complaint said.
In a video posted by Mark Middleton, the FBI says, he can be heard saying he and his wife were on the front lines of the attack and "helped push down the barriers" before being "pepper-sprayed, clubbed and tear-gassed."

His wife Jalise also posted comments soon after the riot.

"We fought the cops to get in the Capital (sic) and got pepper-sprayed and beat but by gosh the patriots got in!" she wrote, according to the complaint.
The couple has pleaded not guilty and are free on a personal recognizance bond while they await trial on nine counts involving assault of a law enforcement officer, interference with a law enforcement officer during civil disorder, obstruction of an official proceeding, unlawful entry on restricted grounds, and disorderly conduct on Capitol grounds, as reported by The Dallas Morning News.