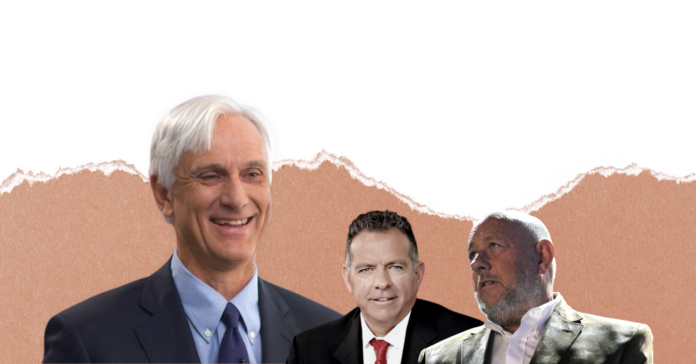 Just three very rich men control much of the Republican Party in Texas, according to a CNN Special Report, and they brought the receipts.
"Deep in the Pockets of Texas" aired Sunday on CNN and will be available on their website and through cable packages on-demand this week. It chronicles exactly how powerful a small set of west Texas oil tycoons are, thanks to the state's allowance of unlimited campaign contributions. Tim Dunn and the Wilks Brothers – Dan and Farris – spend jaw dropping amounts of money on politicians to push Christian nationalism in the state.
According to CNN, there are politicians who are almost entirely funded by the three men. Shelley Luther, the Dallas salon owner who went to jail for violating COVID restrictions and became a right-wing darling, received 96.44 percent of her campaign funds from Dunn, the Wilkses, and PACS they control, when she ran for Texas Senate District 30. In addition to her resistance to pandemic policy, Luther made headlines for saying Chinese students should be banned from public universities and that trans children were undergoing genital mutilation (gender affirming surgeries are not performed on minors). Interviewed by CNN, Luther openly admits her reliance on their money.
"Without them, I couldn't even run," she says. "They're great men."
The list of state politicians who got most of their funding from the three includes former State Rep. Mike Lang (64.94 percent), State Rep. Jeff Cason (62.02 percent), and State Rep. Bryan Slaton (62.44 percent).
Direct donations are not the only path of control, either. Dunn founded and funds the Texas Public Policy Foundation, a right wing think tank that pushes far-right views. Right to Life Texas is also mostly funded by Dunn and Farris Wilks. These two organizations can mobilize enormous amounts of pressure on conservative politicians.
Remember Colleyville Heritage High School principal James Whitfield? The man who was hounded from his job for pushing "critical race theory" when he sent a letter to parents saying they should strive for anti-racism in the wake of the George Floyd killing? His ouster was led by school board member Stetson Clark, who received much of his campaign funding from the True Texas Project, which is in turn funded by Dunn. Clark labeled a call to anti-racism "disruptive and destructive."
One man who stood up to them is State Sen. Ken Seliger, a Republican who is retiring this year. Though a staunch conservative who has voted with most of the far-right policies pushed by Dunn and the Wilkses, he balked at some of their attempts to attack public schools and drive funding to faith based private ones. Ever since, he has been targeted by their money for replacement.
"It's a Russian-style oligarchy, plain and simple," he says.
Why are these men so invested in politics? Excerpts from sermons that Dunn and Farris Wilks have given show their commitment to Christian nationalism and domination. They preach extensively on the dangers of LGBT people and a future where Christians will be persecuted. Overall, they have put $25 million into various Christian nationalism causes.
A former ally of theirs, author Dorothy Burton summed up their worldview.
"They really believe they've been given a mandate by God to take dominion," she says.