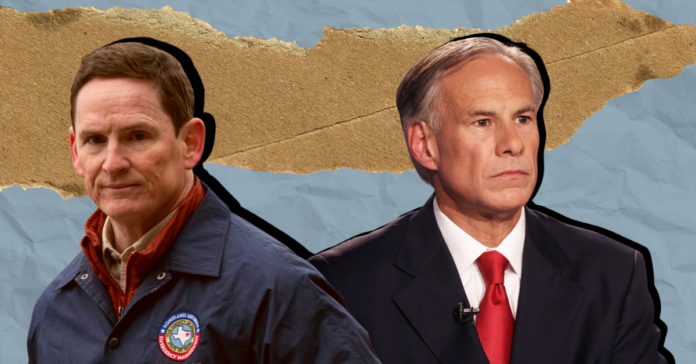 Dallas County Judge Clay Jenkins said over the weekend that he has not spoken to Gov. Greg Abbott since the early days of COVID-19, and he said that lack of communication negatively impacted the county's residents during the pandemic.
Jenkins, who has endorsed Abbott's Democratic challenger Beto O'Rourke, made the comment while speaking at a Dallas campaign event for O'Rourke on Sunday.
"It hasn't always been in emergencies that everything we try to do to keep you safe, we have a governor trying to mess it up," Jenkins said. "I don't even have this governor's phone number. He doesn't answer his emails. I haven't talked to him in two years," according to a report in the Dallas Morning News.
Though Jenkins was unable to show proof of the requests made to Abbott's office, Jenkins said they asked for contact information to directly contact Abbott, but never received it.
Their relationship became increasingly strained during the pandemic, as they disagreed on efforts to mitigate the virus. In 2021, Jenkins sued Abbott over the governor's ban on local mask mandates. He asked a court to block Abbott's ban on mask mandates, on the basis that the executive order violated state law.
Republican Tarrant County Judge Glen Whitley also endorsed a Democrat this year, former Republican Mike Collier, who opposes Lt. Gov. Dan Patrick.
He cited difficulties and antagonism from Austin as well from Patrick, along with Texas Senator Kel Seliger of Amarillo who also endorsed Collier for Lt. Governor.
Jenkins, Whitley and Seliger represent a growing rift in the state GOP, which appears to break along traditional Republican values and the hyperpartisan MAGA agenda.
For example, Jenkins said he had no problem with Abbott's pandemic response until he stopped listening to scientists, and instead gave in to the hostile anti mask rhetoric favored by Florida Gov. Ron DeSantis and former president Donald Trump.
Also at odds with the Tea Party/MAGA GOP move to the right in recent years is Collier, a Houston area accountant, who is running for statewide office as a Democrat for the third time.

In the late 2000s, he began to question his conservative roots and previous voting habits due to the underfunding of public schools by then Gov. Rick Perry. The endorsements he's garnered are based on his experience with accounting practices, which Whitley said the state needs.