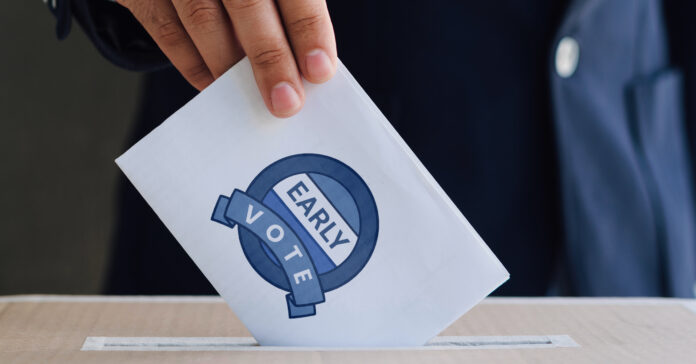 Texas primaries are just around the corner and election turnout appears to be "dramatically low" when compared to 2018.

In the past, the Texas Secretary of State would publish early voting statistics only for 15 most-populated counties, however, a 2019 law changed that practice. There is now county-level early voting data from both the 2020 Presidential primary and Tuesday's primary, in addition to the 15 most-populated counties, as reported by Decision Desk HQ.

According to the SOS site, Republicans are crushing Democrats in early voting, with more than 1 million voters casting ballots in the GOP primary compared to 620,000 in the Democratic Party.

That means roughly 6% turnout on the Republican side and 3.6% turnout on the Democratic side.

Where have Texans been voting early?

– East Texas: The open seat in the Republican 1st district produced a 4-way GOP primary. In Smith County, more than 15,000 voters, which is one in ten of the 148,000 registered voters, cast an early ballot in the GOP primary.

– South Texas: The Democratic primary for the 28th congressional district between Henry Cuellar and Jessica Cisneros has gotten a lot of coverage, as reported by Decision Desk HQ.

In Starr County, more than 5,000 voters have cast ballots, that's more than 15% of registered voters, according to SOS.

In Zapata County, which also includes the 28th district, 3 in 10 registered voters have cast early ballots – the highest democratic participation of any county in the state.

– The big three: In Dallas, Travis, and Harris counties have under 10% of registered voters in each county, which is a drop-off from previous years. Early voting in the 2018 Democratic primary represented 3.89% of the Harris County electorate, while this year it's 2.85%.

According to Decision Desk HQ, early voter percentage also decreased in Travis and Dallas counties.

However, the Republican party has seen better voter turnout, where counties from Austin to San Antonio saw double-digit percentages of the electorate vote early in the Republican primary.

In the 2020 Republican Primary, 54.5% of votes were cast by mail or during early voting, which would equate to around 1.85 million votes. And in the 2020 Democratic Primary, 49% of votes were cast by mail or during early voting, which would equate to around 1.3 million votes.