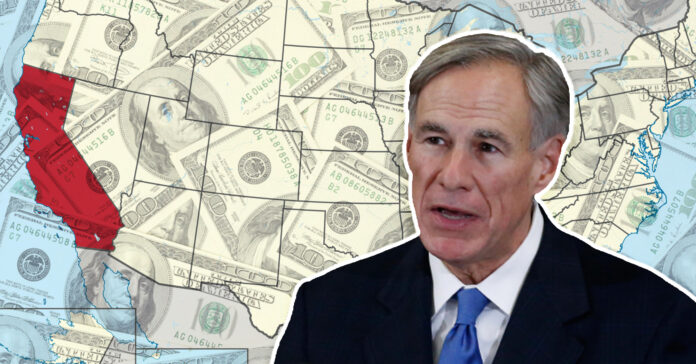 Gov. Greg Abbott once said, "Don't California my Texas!" Not uncommon behavior for a Republican who loves to attack this state for its liberal politics.

However, when it comes to cash I guess he has no problem if it's blue. 
On Monday, Abbott, who is seeking a third term as Texas governor, visited California's Lincoln Club in Orange County. There, he spent most of the day speaking and attending a bid-dollar fundraiser where some donors paid as much as $25,000 to support his re-election campaign, as reported by The Houston Chronicle.
"Gov. Abbott used his visit as an opportunity to recruit businesses and talk about the policies that have made Texas an economic juggernaut, attracting a record number of 73 businesses to relocate their headquarters to Texas last year like California companies Tesla, HPE and Oracle," said Renae Eze, the governor's press secretary and senior communications adviser.
The Governor has raised $378,000 from California donors in the second half of 2021 and now has collected about $1.5 million from that state for his re-election.
All this comes as Abbott continues to take digs at California on his campaign stops.

Just in November, Abbott warned shipping companies in California to "escape" and move to California, "everyone is doing it."

He has also put out a warning on Twitter to all those who wish to move to Texas: "Remember those high taxes, burdensome regulations, & socialistic agenda advanced in CA? We don't believe in that."
To top it all off, his 2018 campaign website attacked his Democratic opponent for raising money in the Golden State.
"By traveling to one of the bluest states in the nation, this far-left candidate is going to raise massive amounts of funds from California liberals with deep pockets — and this fundraising haul will be spent to bring liberal, California-style policies to Texas. We can't let California cash turn Texas blue," his campaign website declared.