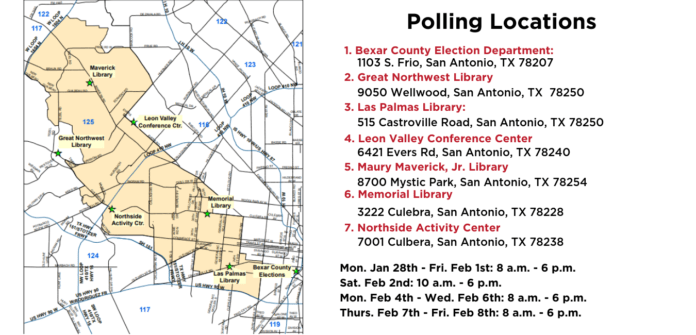 The first day of early voting in the Texas House District 125 special election begins today. The vacancy for the seat was created when the previous State Representative, Justin Rodriguez (D-San Antonio), resigned. Rodriguez was appointed as Bexar County Commissioner to fill a vacancy after the previous commissioner, Paul Elizondo, recently died.
Early voting will continue through Friday, February 8, 2019. Election Day is Tuesday, February 12, 2019.
Polling locations and timings for Early Voting can be found here.
On the ballot are four Democrats — former San Antonio City Councilman Ray Lopez, civil rights activist Steve Huerta, policy advocate Coda Rayo-Garza, and former state representative for House District 125 Art Reyna — and one Republican — Fred Rangel, who ran unsuccessfully for Texas GOP vice chair in 2018.
Update 1/28 4:53 PM: The San Antonio-Express News is reporting this afternoon that one of the candidates on the ballot, Steve Huerta, is ineligible for serving public office because he was convicted of a felony in the past, according to state officials. Huerta will still be on the ballot because officials say it is too late to remove his name.



(From left to right: Art Reyna, Coda Rayo-Garza, Fred Rangel, Ray Lopez, Steve Huerta)
Here are links to the candidates' campaign websites or social media websites:
Reform Austin will continue to follow the special elections and report the results. If no candidate earns 50 percent or more on Election Day in any of the three districts, a runoff will be held several weeks later.