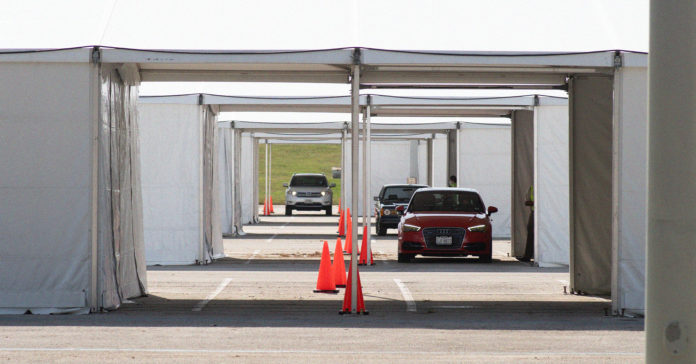 Update: The 5th U.S. Circuit Court of Appeals late Monday denied the appeal of the lower court decision. Harris County is still keeping all but one of its drive-thru locations closed for Election Day.
---
Despite a win in court on Monday, just one of Harris County's 10 drive-thru voting locations will be open on Election Day. 
On Monday, U.S. District Judge Andrew S. Hanen, a George W. Bush appointee, dismissed a lawsuit brought by conservative activist Steve Hotze, state Rep. Steve Toth (R-The Woodlands), judicial candidate Sharon Hemphill, and Congressional candidate Wendall Champion, all Republicans. Hanen found that the plaintiffs did not have standing to bring the case, however, he indicated that if he were to rule he would block drive-thru voting from being used on Election Day itself because the tents used for drive-thru voting do not qualify as buildings as required by state election law.
Late Monday evening, Harris County Clerk Chris Hollins announced via Twitter that Houston's Toyota Center polling location would be the only site for drive-thru voting on Election Day because it satisfies the judge's definition of a building.
"My job is to protect the right to vote for all Harris County voters, and that includes those who are going to vote on Election Day," Hollins stated. "I cannot in good faith encourage voters to cast their votes in tents if that puts their votes at risk."
More than 127,000 votes were cast using drive-thru voting during the early voting period.
Hotze's group had originally sought to halt drive through voting and invalidate all of the votes already cast using that method.
In their appeal of Hanen's ruling to the 5th U.S. Circuit Court of Appeals, they dropped the request to void the early voting drive-thru ballots and instead asked only for drive-thru voting to be halted for Election Day.
As of late Monday, the appellate court had yet to issue a decision.
The polls will be open from 7 a.m. to 7 p.m. tomorrow. Hollins notes the county still has 800 walk-in voting locations open.
"Please use http://harrisvotes.com/locations to find a voting center near you that has a short wait time," he stated. "If you have a disability, sickness, or physical condition that makes you unable to enter a walk-in voting center, you are entitled to use curbside voting at any of those locations."