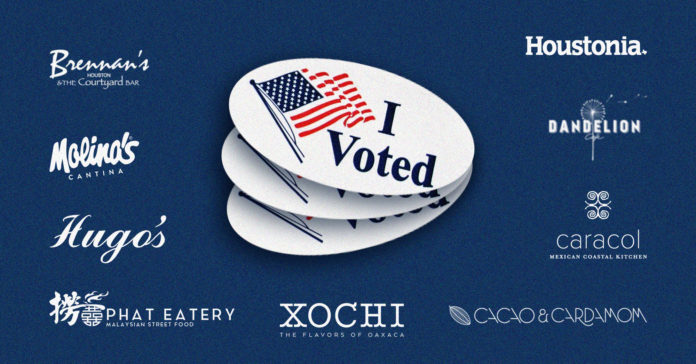 Want some free coffee, ice cream, a margarita, some queso or a discount on your meal? After casting your vote Tuesday, make plans to snag some of the freebies restaurants are offering voters. You just need to make sure to show them your "I voted" sticker.
Houston
You can get a free small coffee at Dandelion Cafe.  Hugo's is offering a free margarita if you visit the restaurant with your "I voted" sticker.
Voters can get a complimentary order of beignets at Brennan's of Houston on Tuesday. The offer applies to dine-in orders only.
Bread Man Baking is offering 20% off your bill through Election Day.
Austin
How about some Amy's Ice Cream? Show your sticker and get a free crush'n. 
Voters can score free queso at El Chilito (all three locations).
Also, you can get a free slice of pizza for doing your civic duty. Just bring your "I voted" sticker to Home Slice.
Austin Winery is offering 20% off bottles to go. Use the code VOTE when ordering online. Here are more voter deals and discounts in Austin.
Dallas
Voters can get $1 off a tasty adult beverage at Thunderbird Station.
At Another Round, the offer is $2 off any cocktail through Saturday. 
Visit Ascension Coffee with your "I voted" sticker and get a free cup of coffee at any location through Tuesday.
If you are hungry for a burger, stop by Billy Can Can. They have a $20 deal for voters.
San Antonio
Bakery Lorraine is offering a free macaron to voters. 
EVO cinemas are giving out movie tickets to voters.
Ocho Restaurant at the Havana Hotel on the River Walk is offering a 10% discount to voters. 
The San Antonio Museum of Art is offering $2 off admission with an "I voted" sticker.
Lick Ice Creams has a discount posted on Twitter. The ice cream shop proclaims, "Vote! Vote! Vote! Swing by one of our scoop shops with your sticker for 20% off a small ice cream serving!"