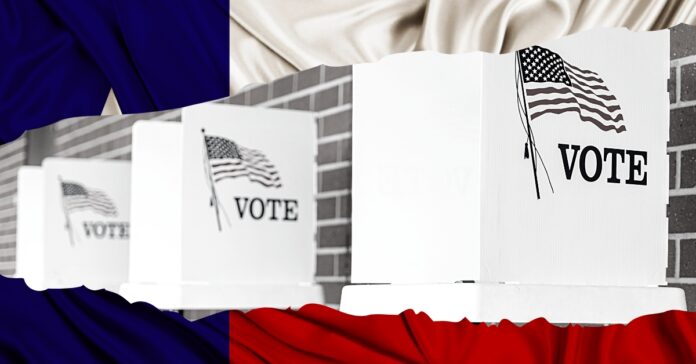 This article was originally published by Votebeat, a nonprofit news organization covering local election administration and voting access.

Nearly two months after the general election, Harris County election officials still do not know whether ballot paper shortages and late polling site openings prevented people from voting on Election Day. 
In a post-election assessment, which the county provided to Votebeat, Harris County Elections Administrator Clifford Tatum describes the result of the county's investigation into Election Day problems, including ballot paper shortages, as "inconclusive." The 54-page assessment, which came at least two weeks later than expected, says the elections office's investigation "has not yet revealed" whether, or how many of, the county's 782 polling sites had to turn voters away due to ballot paper shortages.
To figure out the scope of the ballot paper problem, Tatum said he had to rely on "anecdotal" information his office received directly from calling more than 700 presiding judges and alternate judges because he does not have an adequate tracking system to help him see whether an issue at a polling place was addressed and resolved.
Tatum told Votebeat that his report is inconclusive because his staff received conflicting or confusing statements from presiding election judges and alternate judges — people nominated by political parties and appointed by the county to supervise polling sites — about whether specific polling sites did, in fact, run out of paper.
The assessment said some other presiding judges and alternate judges were "reportedly" advised by the Harris County Republican Party to not talk to election staff about the matter. The party is involved in at least two lawsuits against the county that allege paper shortages "disenfranchised" voters on Election Day. Harris County Republican Party chair Cindy Siegel, however, denied that the party advised election judges to not speak to elections staff.
Tatum would not say whether he thought the report's explanations about ballot paper shortages would satisfy voters and officials who have demanded answers about what happened on Election Day.
"I can't make any conclusions from what I got from the judges other than, they gave me conflicting information," Tatum said. "The solution is for me to have systems in place that demonstrate what occurred."
Other large counties in Texas and across the country have for years been using this kind of tracking system. Experts say Harris is unusual among large jurisdictions in not having such tools.
Election administrators in Dallas and Tarrant counties use an effective system to track problems at polling sites in real time, which they say is essential to their operation. The systems can be purchased online and cost between $30,000 and $40,000 a year.
"I am really surprised, I will be honest, that [Tatum] doesn't have that. Most of the large jurisdictions we work with have something like this," said Jennifer Morrell, elections administration consultant and co-founder of the Elections Group. "But I know there's been a lot of change in Harris County so there's definitely room for improvement there."
According to the report, which Tatum sent to Harris County commissioners and election commission members, including County Judge Lina Hidalgo and Republican and Democrat party chairs via email Tuesday, the 50-person elections Help Desk on Election Day received 1,600 calls for polling site support. Forty-six of those calls sought additional paper. However, "this does not indicate that these [voting centers] ran out of paper and had turned voters away as a result" but "only that they required additional paper at some point on Election Day," the report says.
At least 68 precinct judges whom the county contacted after the election recalled "running out of their initial allotment of paper," and 61 of those had received additional paper, the report says. But 22 alternate judges at those locations gave conflicting reports, "stating that they did not run out of paper at all." The report does not say how quickly paper was delivered and whether there was a period during which sites had no paper.
The assessment also notes "media reports" claiming 24 polling sites ran out of paper and had to turn away voters but it isn't clear exactly which news stories the report is referring to. Nonetheless, the report says those locations received additional paper and at least two precinct judges at those locations said they did not run out of paper at all. At least one news article reported that a presiding judge had asked for additional paper and the delivery was delayed. That judge had to borrow ballot paper from a nearby polling site in the interim.
A week after the election, the Harris County Republican Party held a press conference to announce a lawsuit against the county and Tatum. There, party officials said more than 20 locations ran out of paper. The lawsuit alleges "thousands of voters" were turned away and did not vote as a result. Harris County voters are able to cast a ballot at any polling location in the county, which began using a countywide polling program in 2019. Absent sworn statements from voters or other evidence, it could be difficult to determine whether voters in line at a polling place left and didn't cast a ballot elsewhere.
Earlier this month, Erin Lunceford, a former judge and 189th District Court Republican candidate who lost her Harris County race to Democrat Tamika Craft by a 0.26% margin, also filed an election contest. The suit alleges more than 3,000 voters were turned away from 26 polling locations due to ballot paper shortages. Lunceford didn't immediately provide evidence to support the claims, though GOP officials said that evidence, including sworn statements from election workers, will be filed in January.
The county's assessment describes reasons why some polling locations opened late, but it does not include the exact number of locations that experienced delays. A lawsuit on Election Day by voting rights advocacy groups yielded a court order requiring Harris County to extend voting until 8 p.m. The lawsuit cited about a dozen locations that opened late or that were closed for some time due to issues with voting machines. Losing Republican candidate for the Texas House of Representatives Mike May in December filed the first election contest in the county. He submitted a single-page complaint that offered no evidence in support of it. May, who lost to Democrat Jon Rosenthal by more than 6,000 votes, alleged Tatum's mismanagement and ballot shortages meant voters were unable to cast ballots.
According to Tatum's report, some locations opened late due to undelivered keys to the voting equipment, which caused a two-hour delay, or election workers quitting or not showing up to work and workers unable to access their polling site facility by 6 a.m., which caused a 30-minute delay. In addition, 170 polling sites that were located at school district buildings were not set up as planned the day before the election due a school district closure. Those precinct judges had limited time to set up the polling site, which also led to delayed openings, the report says.
To prevent the same issues from happening again, Tatum told Votebeat he expects to have the tracking tools necessary by the May 6 election that will allow him to see what is happening at every polling site in real time.
In his assessment, Tatum also details proposed actions to improve the operations of elections in Harris County. These include: a review of polling site opening and voting system set-up process; voting system software updates, additional full-time staff for the elections department, and "sustained and dedicated administrative funding."
Natalia Contreras is a reporter for Votebeat in partnership with the Texas Tribune. Contact Natalia at ncontreras@votebeat.org
Chalkbeat is a nonprofit news site covering educational change in public schools.
Votebeat is a nonprofit news organization covering local election integrity and voting access. Sign up for their newsletters here.