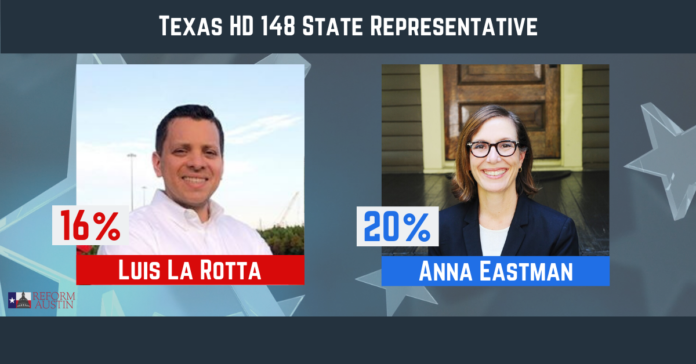 HD-148 results show that Anna Eastman and Luis Larotta are headed to a runoff election. None of the 15 candidates received more than 50 percent of the vote.
The candidates with the top two vote totals go to a runoff. Eastman received 4,201 votes or 20 percent of the total. Larotta pulled in 3,272 or 16 percent of the votes cast.
Eastman is one of 12 Democrats that filed to run for the office. Larotta is one of two Republicans running in what has been a solidly blue district for years.
As election day approached, Anna Eastman was a fairly low-wattage candidate. She didn't post stellar fundraising numbers — she only reported $56,900. Eastman also avoided headline-making scandals.

Eastman heads into the runoff with about $15,000 on hand. Larotta, on the other hand, has about $5,000 in funds available heading into the runoff.

The runoff election must be held between 20 and 45 days after the date of the final canvass of the main election.

The time frame and time of year make "get out of the vote" efforts more crucial than usual for success in this election.  The final HD-148 results may not be available until next year.
For more reporting on elections check out Reform Austin on Facebook, Twitter, and Instagram.