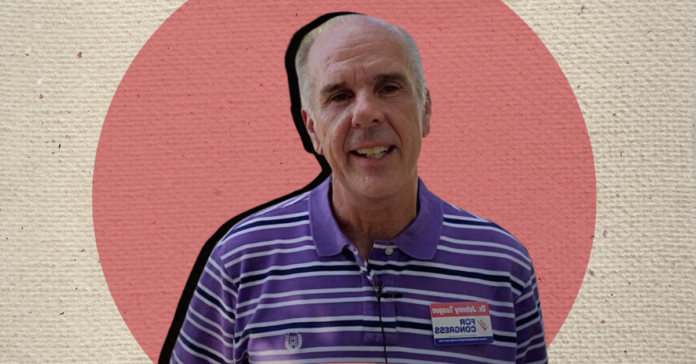 A Houston area evangelical pastor and business owner seeking Texas' 7th congressional district seat has recently written a book — about Anne Frank — and reimagines her famous tragic story — as a sequel.
Aside from being one of the most poignant books ever written, "The Diary of Anne Frank" is the diary of a girl who lost her life to the vile insidious evil of the Nazis during the Second World War.
His book titled "The Lost Diary of Anne Frank," tells an incredulous tale of Anne "possibly" converting to Christianity before being murdered in the infamous Auschwitz and Bergen-Belsen concentration camps.
Teague, a self-proclaimed history buff, starts his story where the original book leaves off in the work of fiction published by Las Vegas' Histria Books in 2020.
"I would love to learn more about Jesus and all He faced in His dear life as a Jewish teacher," Anne muses, as she thinks about her dad trying to get her a copy of the New Testament.
He is even vague about whether his new Anne was indeed a convert. By the book's end, his version of Anne is firm in her belief that "every Jewish man or woman should ask "questions like "Where is the Messiah? … Did He come already, and we didn't recognize Him?"
Yet, Teague writes that her father, Otto Frank, who miraculously survived the holocaust, did so because of his interest in learning about Jesus.
Later in the book, she says of their fellow inmates in the horrid death camp, "What I love about her is her faith in God and her faith in Jesus," Frank says.
"I am seeing a stark difference in some of the Christians here, as opposed to the others… It seems Christians are more willing to die than the rest of us," she continues.
Teague claims to have interviewed Holocaust survivors and visited the Anne Frank House, multiple concentration camps, and Holocaust museums in Washington, D.C., and Israel in researching the book.
In the book, he implies that the real-life Anne Frank related "her suffering to the historic persecution by Egypt, Haman, Assyria, Rome, and others — all horrific facts of how the precious Jewish people have been attacked for so many centuries."
But in his candidate biography, he claims that he "has been affiliated with" the Association for Jewish Studies, an academic organization. However, AJS did not return requests for comment. While widely panned by some in the Jewish community the title appears on a 2021 AJS list of books by its members, under the author name "Johnny Mark Teague."
A former accountant for Shell Oil, pastor, and rancher, the Republican nominee's website blames illegal immigrants for not coming to this country legally through Ellis Island, which incidentally has been closed since 1954. The site goes on to say that those immigrants coming to our borders today "expose…our kids to sickness, our cities to terrorism, and our citizens to lost jobs and lower pay."
His website also claims that he espouses the notion of the book itself that fossil fuels are divinely ordained: "If you believe in a Creator and that everything is here for a purpose, then you have to realize that fossil fuels are not an accident," it reads.
"At the very beginning of time, God knew we would need automation and industry, so in His Wisdom, He gave us the fuels that we would need," it continues.
This viewpoint, despite irrefutable evidence that we are destroying the planet at record rates due to the use of fossil fuels, remains strong among many Republican voters in Texas.
The Houston-area district Teague is running in has a Democratic incumbent, and polling indicates the likely re-election of his opponent Lizzi Fletcher.
If so, this will mark his second political loss in successive tries, as he only received 21 percent of the votes cast for the 9th District seat he ran for in 2020. Perhaps not coincidentally, that election was held two days after his book was published.