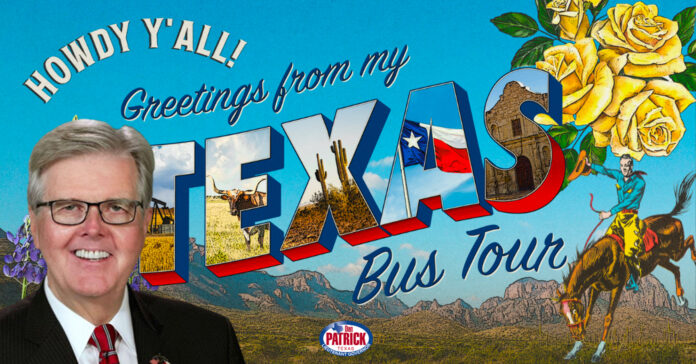 In a notable change from his last campaign tour in 2018, Texas Lieutenant Governor and conservative candidate for re-election, Dan Patrick, announced the commencement of a statewide bus tour.
In a news release last Thursday, Patrick's campaign said the tour, which started last Wednesday, has 131 stops planned across Texas, passing through North Texas, the Rio Grande Valley, East Texas, West Texas, Central Texas, and the Coastal Bend.

The Lieutenant Governor's goal, according to a campaign update, is to recognize, galvanize and mobilize rural Texans to keep the Lone Star State red.

"It's going to be fun, and I am excited about it. Keep a lookout for the bus – I hope to see you out on the road," Patrick concluded.

The bus tour is a drastic change from Patrick's last campaign tour in 2018, where he only traveled by private jet to visit a handful of media markets, staying only long enough for the interview before taking off.
While Patrick claims "Democrats whine and carp, perpetuating the lie that it's difficult to vote in Texas," it might be the Lieutenant Governor who is scared of November's turnout and is now striving to kick it up a notch in the rural areas – which make up 50% of the Republican vote.