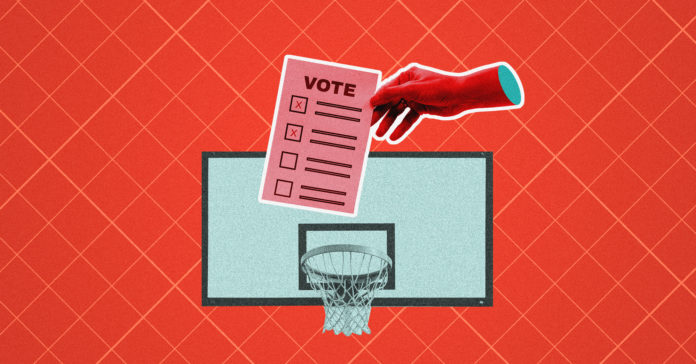 The NBA and its players' union announced Friday that league franchise-controlled arenas will be used as polling places in the November election.
This development is part of an agreement that includes resuming playoff games, social justice and civic engagement efforts. The social justice coalition will be made up of representatives of players, coaches and team governors, and it will focus on a variety of issues including access to voting and police reforms.
The American Airlines Center, where the Dallas Mavericks play, will be the largest polling place in Dallas County for people to vote on Election Day, Nov. 3.  The center is also part of "Mavs Take ACTION!" plan which includes 40 initiatives such as promoting social justice and addressing racial inequalities in North Texas, NBC DFW reported.
"For us, having one of the biggest polling centers in Dallas County where anyone from Dallas County can come and vote is huge," said Mavs center Dwight Powell, according to a release from the team
Katie Edwards, president of the Mavs Foundation, said, "We want to do everything we can to make sure that everyone has a chance to use their voice and vote." Edwards hopes to see lines out the doors.
The Houston Rockets and the Harris County Clerk office announced Thursday that the Toyota Center will be a polling location for Election Day and early voting. 
"Voting is an extremely important right which many have fought hard for throughout the years, and we want to thank the Harris County Clerk office for allowing the Rockets and Toyota Center to offer support," said General Manager & Senior Vice President of Toyota Center Doug Hall.
The AT&T Center, the home of the San Antonio Spurs, is not owned by the team; Bexar County owns it. It will also be a voting location. 
More than a dozen team arenas throughout the country will also be polling places.