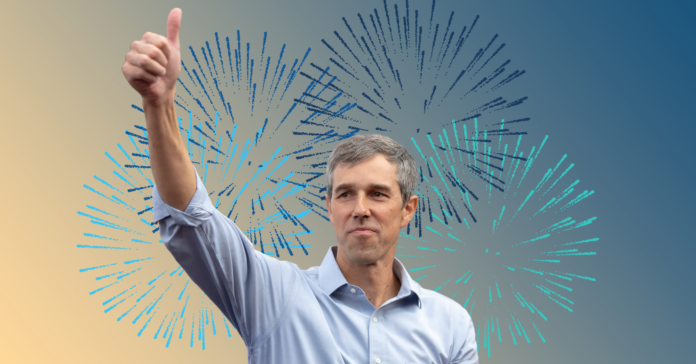 Every election expert is predicting that Republicans will do better than Democrats this midterm, but there are some indications that former congressman Beto O'Rourke could still have a fighting chance against Governor Greg Abbott.
First, the bad news. The president's party almost always does poorly in the midterms, with only two exceptions in modern history. President Joe Biden currently has the lowest approval rating of any president going into the midterms, meaning that down ballot races are unlikely to receive a boost from their party leader. Texas governor, in particular, is a tough race. No Democrat has held the office in decades, and incumbent governors have an 85 percent success rate regardless of party.
Despite all of that, O'Rourke has proven resilient in the polling so far. He still lags at least five points behind Abbott in most recent polls, but Abbott hasn't been able to crack the 50 percent mark in months. While this doesn't indicate a love for O'Rourke, it does imply that Abbott's approval among voters is tenuous.
The fallout from some of Abbott's far-right policies hasn't been factored into the polling yet, either. Since the U.S. Supreme Court overturned the constitutional right to an abortion, effectively outlawing the practice in Texas thanks to trigger laws, only a single poll has been taken. It's still too soon to see if anger over the loss of reproductive freedom will galvanize the Democratic base.
O'Rourke, for his part, says that the decision has energized his campaign. He claims more than 50,000 people have joined as volunteers since the ruling. He's received further boosts in popularity and funding following the massacre at Robb Elementary School in Uvalde. O'Rourke confronted Texas Republicans at a public event, including Abbott.
"You said this was not predictable? This is totally predictable when you choose not to do anything," he said.
There is also the ongoing power crisis to consider. Texas is experiencing record heat, straining the power grid once again. O'Rourke can make the case that Abbott's failure to focus on the grid after the catastrophic failure during winter 2021 has once again put residents at the mercy of private power brokers.
And then, there is Trump. The former president has implied he will be announcing his run for re-election soon, possibly before the midterms. Though still popular with the Republican base, Trump's actions as president, including possible collusion with the attempted January 6 insurrection at the U.S. Capitol, cast a long shadow over Republican politics. Biden may have low approval ratings, but if the midterms becomes a proxy war for Trumpism, that may shift things considerably.
In the meantime, O'Rourke continues to set new fundraising records in Texas, gathering $27.6 million from supporters last quarter. However, Abbott still has a much larger war chest for the race, with some estimates giving him more than double the available cash on hand that O'Rourke has. It remains to be seen if O'Rourke can overcome the midterm blues to win, but so far the signs are increasingly positive.