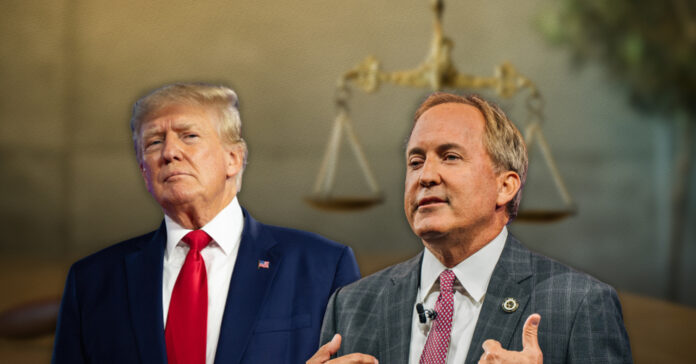 Despite his myriad personal and legal woes, Texas Attorney General Ken Paxton still found time to interfere in Georgia's attempts to hold Trump and others accountable for their efforts to overturn the legitimate 2020 presidential election in their state.
The case against Trump in Atlanta was brought by Fani Willis, Fulton County district attorney, and she said recently that her investigation into attempts to subvert the 2020 election has grown in scope and therefore will take longer to resolve.
The case now covers video and other presentations on unfounded election fraud claims to Georgia state lawmakers, a fake elector scheme, efforts by unauthorized individuals to access voting machines, and threats and harassment against election workers.
And she said she wants to avoid the appearance of rushing the process to influence the midterm election. But she indicated that indictments will likely follow in December.
In a recent statement, she said, "We expect every state to abide by the Constitutional requirement to ensure that full faith and credit is given by them to the laws and proceedings of other states. That requirement includes abiding by the interstate compact to produce witnesses for other states' judicial proceedings," as states are required to do in any other criminal case.
Despite this, under Paxton's leadership, the Texas Court of Criminal Appeals denied Georgia's request to compel Jacki Pick Deason, a Dallas-based lawyer and GOP pundit, to testify in Atlanta. Her husband, Doug Deason, is a prominent Republican donor in the Dallas area.
She is the host of The Jacki Daily Show, a conservative radio show and podcast prone to spreading conspiracy theories. According to the subpoena, she presented and narrated portions of a video claiming to show election workers carrying 'suitcases' of unlawful ballots from unknown sources, outside the view of poll watchers.
The Texas court's findings also claim that they doubt the legality of Georgia or other states forcing Texas citizens to testify unless the case is credibly criminal, which they deny. This breaks with a long-held tradition of cooperation between states, with all 50 having versions of the Uniform Act, which was created in the 1930s to establish compulsory testimony from out-of-state witnesses in criminal cases.
At the time of the filing of the case in Texas, the attorney's name was listed as Jacki L. Pick, matching her Texas State Bar Association credentials. However, in the Georgia case filing, she is listed as Jacki Pick Deason, presumably her current legal name.
The court's dismissal could prevent the Georgia prosecutors' attempt to compel testimony from Sidney Powell, Trump's campaign attorney, who is also a resident of Dallas County.
Powel has become a key witness as the evidence unfolds of her role in the breach of a rural Georgia county's election systems, which is also under investigation by the Secretary of State's Office and the Georgia Bureau of Investigations.
Texas interference in the Georgia probe extends to non-Texans as well. In September, Paxton filed an amicus brief in the Atlanta-based U.S. Court of Appeals for the Eleventh Circuit in support of U.S. Senator Lindsey Graham of South Carolina.
Graham refuses to be deposed until his appeal has been fully resolved. Graham is still attempting to fight his subpoena in a federal appeals court. Georgia investigators want to question him about two phone calls he held with Georgia election officials in the aftermath of the 2020 election.
Graham contends the calls were merely discussions of potential election policy changes. Thus he claims the speech or debate clause prohibits him from being questioned about official legislative work.
A special grand jury investigating election meddling in the state has already heard testimony from more than 30 witnesses. Rudy Giuliani, the former New York mayor and Trump attorney who could face criminal charges, testified in August. Attorneys John Eastman and Kenneth Chesebro have already appeared before the investigators as well.
They are still seeking testimony from others, including former White House chief of staff Mark Meadows. In addition, former White House aide to Meadows, Cassidy Hutchinson, has agreed to testify in the case.
Hutchinson could offer Georgia prosecutors insights based on her experience working for Meadows and testimony to the House select committee investigating the attempted insurrection on January 6, 2021. She will likely be asked about Meadows's possible involvement in the election conspiracy in Georgia.
The latest interference in Georgia's investigation is another example of how red state leaders have sought to enable the continuance of the "Big Lie" and Trump's insistent efforts to reverse his loss to Joe Biden.
A cadre of Trump loyalists has been at the center of accusations of trying to recalculate the presidential election results in Georgia, among other states, where politicians and advocates tried to engineer a different result. Paxton is one of 17 other GOP state's attorneys general who filed challenges to the 2020 presidential election results in a last-ditch effort to undermine the legitimacy of the results.
They also attempted to get the Supreme Court to delay certification to give them more time to execute dubious inquiries into alleged election fraud. However, the court, though stacked by Trump and the GOP, refused to side in their favor.
Paxton is running for re-election this year despite his recent flight from the law and his being indicted and arrested on criminal securities-fraud charges in 2015.