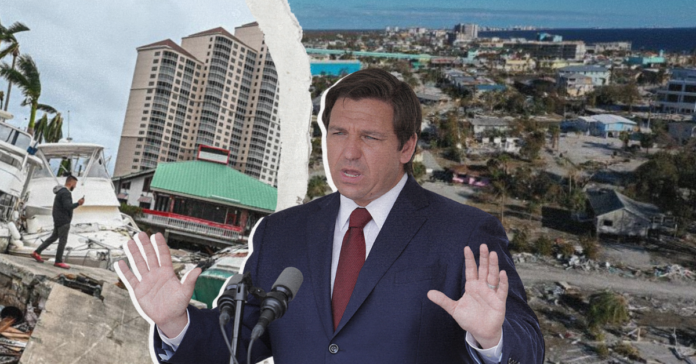 Despite Republican Gov. Ron DeSantis' efforts to kick undocumented migrants out of "his" state, Hurricane Ian's destruction has them running down to Florida to help. Migrants from New York, Louisiana, Houston, and Dallas are lining up to be a part of the labor force needed to clean and rebuild the aftermath of Hurricane Ian.

Saket Soni, executive director of the nonprofit Resilience Force, which advocates for thousands of disaster response workers, describes the group as the "white blood cells of America."

"What you have now is basically immigrants who are sort of traveling white blood cells of America, who congregate after hurricanes to heal a place, and then move on to heal the next place," Soni said to CNN.  

Soni said many more migrants will arrive in the coming weeks and called it a "moment of interdependence," which he hopes is something DeSantis will recognize.

DeSantis however seems unfazed by the migrant's goodwill.

So far, the Florida governor has positioned himself as one of the most vocal critics of the Biden administration's immigration policies and announced high-profile immigration steps of his own.

Most recently, on Sept. 14, DeSantis used taxpayer funds to pay for two planes to transport the migrants from San Antonio, Texas, to Martha's Vineyard, Mass., to the surprise of local officials there. The migrants had been recruited to join the flights with false promises of pre-arranged jobs and other assistance, as reported by Time.

His stance has not shifted, even as migrants arrive to help with the aftermath of Hurricane Ian. Last week, during a news conference, DeSantis made a point of trumpeting that three "illegal aliens" were among four people recently arrested on looting allegations.

"These are people that are foreigners, they're illegally in our country, and not only that, they try to loot and ransack in the aftermath of a natural disaster. I mean, they should be prosecuted, but they need to be sent back to their home countries. They should not be here at all," he told reporters.
Later he was asked by a CNN reporter whether he had any response to reports that migrants were being recruited to work on recovery efforts.

DeSantis responded: "First of all, our program that we did is a voluntary relocation program. I don't have the authority to forcibly relocate people. If I could, I'd take those three looters, I'd drag them out by their collars, and I'd send them back to where they came from," the governor said, drawing applause from officials surrounding him.