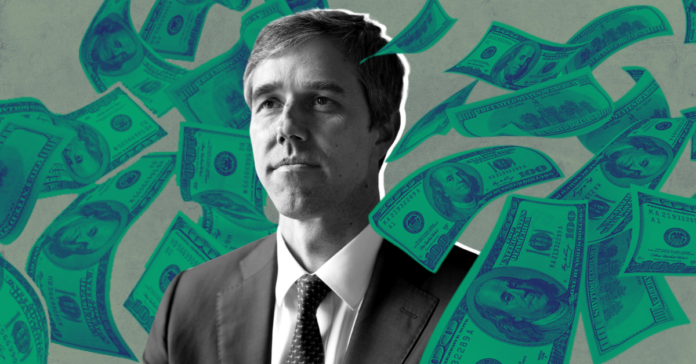 Beto O'Rourke does it again.

The Democratic candidate for governor broke his own record, setting a new precedent for Texan politicians. On Tuesday his campaign announced he raised another $25.18 million since July, raising just over $53 million in total for his campaign against Republican Greg Abbott.

The $25.18 million haul comes from almost half a million contributions from July 1 to Sept. 29.

"I'm grateful for everyone who helped raise $25.18 million in just three months as we support the work of our organizers and record-breaking 100,000 volunteers," O'Rourke said.

Some of the biggest checks that came his way were from: Sam Bankman-Fried ($1M), founder and CEO of FTX , a cryptocurrency exchange, George Soros ($500K), one of the world's foremost philanthropists and JB Pritzker ($100K), governor of Illinois.
His counterpart Gov. Greg Abbott raised just under $25 million, from roughly 45,000 contributors, according to his campaign. That means O'Rourke managed to outraise Abbott again.
O'Rourke also managed to surpass Abbott's cash-on-hand advantage. New reports show he had $16.47 million as of Sept. 29, as compared to the governor's $16.35 million. Abbott, however, had greater expenses during the period, $52.5 million, while O'Rourke only had $31.6 million.

During the last reporting period, Beto collected $27.6 million to Abbott's $24.9 million from late February through June, as reported by The Texas Tribune.

O'Rourke, however, is still far from catching Abbott, who since the beginning of his campaign cycle last June, has raised nearly $95 million from more than 418,000 donations.

Some of Abbott's major donations came from: Miriam Adelson ($1M), majority shareholder of Las Vegas Sands and Trump megadonor, Ed Roski ($1M), President and Chairman of the Board of Majestic Realty Co., and Matthew Andresen ($975K), Co-founder and CEO of Headlands Technologies LLC.

And of course, Abbott continued to receive a massive contribution from Texas Blackout's biggest profiteer, founder and executive chairman of Energy Transfer Partners, Kelcy Warren, who gave the governor another $250k in late September.

This story is being updated as new information is released.