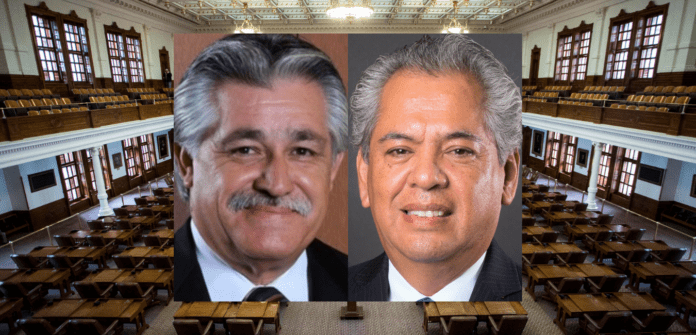 (Pictured left to right: Ray Lopez, Fred Rangel)
The special election for Texas House District 125 in San Antonio was held on Tuesday, February 12th and the results are in.
With 100 percent of precincts reporting, Republican Fred Rangel and Democrat Ray Lopez have advanced to a runoff election.
The lone Republican in the race, Fred Rangel, led last night's voting, receiving 2,319 votes (38.0 percent) against four challengers, well short of the 50 percent +1 vote threshold to avoid a runoff, which is expected to take place in late March to early April. Second place finisher former San Antonio City Councilmember Ray Lopez, received 1,186 votes (19.4 percent).
Finishing third by only 22 votes was education policy expert Coda Rayo-Garza with 1,164 votes (19.0 percent). Former State Representative Art Reyna finished fourth with 1,045 votes (17.1 percent). Community activist Steve Huerta, who the San Antonio Express-News reported has a felony record which would disqualify him from serving office, finished fifth with 395 votes (6.5 percent).
Overall, Democratic candidates received 62 percent of the total vote, and Republican Fred Rangel received 38 percent.


Voter turnout in the special election was sparse. Just 6,109 (6.0 percent) of House District 125's 101,057 registered voters cast a ballot in the election. 355 special election voters (5.8 percent) cast their ballot by mail, while 3,354 (54.9 percent) voted early in person. 2,400 voters (39.3 percent) voted on Election Day – Tuesday, February 12th.
The Texas House District 125 special election was called by Gov. Greg Abbott when former State Rep. Justin Rodriguez (D-San Antonio) was appointed Bexar County Commissioner to fill the vacancy created by the passing of Commissioner Paul Elizondo.
Once results of the election are certified, Governor Abbott will call a runoff election among the top two finishers. Abbott has already scheduled the runoff election for House District 145 for Tuesday, March 5th.