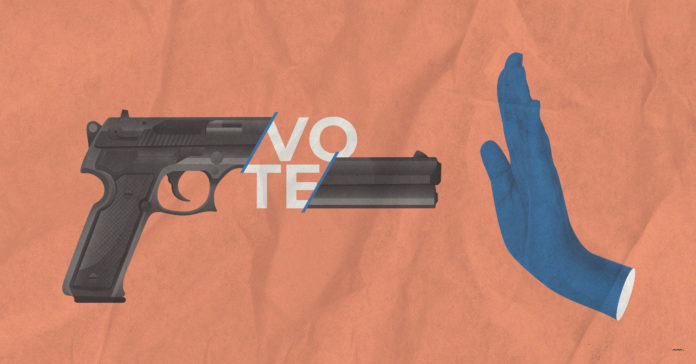 We are coming upon an election that will determine our path not only for the next four years but for the foreseeable future, and we all have a choice to make. We can make the choice to use our votes for radical change, or we can protect the status quo that we know isn't working for most Americans. We have the choice to battle gun violence by enacting red-flag laws, halting the production of ghost guns, and electing gun sense representatives to protect these measures, or we can continue to let more than 100 Americans die every day at the hands of gun violence. We have the choice to elect candidates who condemn police brutality and dedicate themselves to addressing systemic racism, or we can choose to elect candidates that threaten to use violence against protesters and uphold inequality.
For many young people, the newness of this struggle may feel like treading into uncharted waters, but we don't need to tread alone. To every young person who feels that the world is broken beyond repair, I encourage you to consider the legacy of youth activism and advocacy in reflecting on our potential to change the world.
The 55th anniversary of the Voting Rights Act just passed on Aug. 6, and it serves as a reminder that our actions can make a difference. Fifty-five years ago, young people of color led the charge for revolutionary changes to our nation.Today, we have the opportunity to honor their legacy by fighting for those who will come after us. In our journey to justice, we can only hope to take the next step, take the next action, and cast the next ballot in honor of those who died so that we would be able to.
As the late and great John Lewis said, "Freedom is not a state; it is an act. It is not some enchanted garden perched high on a distant plateau where we can finally sit down and rest. Freedom is the continuous action we all must take, and each generation must do its part to create an even more fair, more just society." As for my generation, we must vote. We hold incredible power at the polls. We must use it.
There are a number of high-priority issues on the ballot in November, and one of my biggest concerns is gun violence. Having grown up in an under-resourced neighborhood, I saw the impacts that gun violence had on my community. As a person growing up in an age of rapid technological advancement, I feel concerns about the production of ghost guns. We cannot wait for another election, another tragedy, or another moment in time to make a change. The time to act for our future is now.
While I am currently too young to vote, I find my hope in the steps I take with Students Demand Action, the largest youth-led gun-violence prevention movement in the nation. In my advocacy for gun-violence prevention measures, I have heard my friends and mentors discuss the harsh realities of change. We understand that we may not create the gun violence-free society that we dream of in a month, a year, or perhaps even in our lifetimes, but it is our responsibility to make things better for ourselves and for generations that will follow.
The truth is that the battle for a better America is a lifelong struggle, but it starts with us, and it starts small. I first got involved with Students Demand Action by attending an hour-long meeting in my city. Having minimal experience in organizing, I truly felt that there was no way that I could make a difference. This one hour led me to find a family of young and passionate activists with Students Demand Action and gain organizing skills that will last me a lifetime. As the leader of a Virtual Field Office, I have worked with young people across our state to register hundreds of voters, to educate others about politics and advocacy, and to make gun-violence prevention a priority for elected officials. My story is not unlike that of thousands of fellow student volunteers – and thousands of individuals who decide to do one small thing that can build mighty movements. Change starts with one meeting, one hour, one vote – and for you, it can start with one text. Text STUDENTS to 644-33 to join our movement to create a safer America and text FUTURE to 644-33 to register to vote this November.
Nahla Owens is a state leader with Houston Students Demand Action.