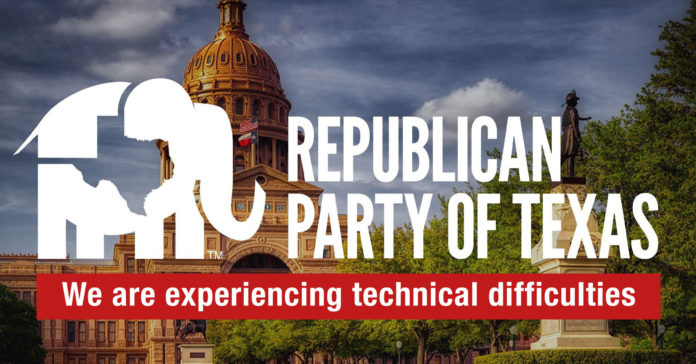 Beset by technical difficulties, the Republican Party of Texas is canceling all of today's sessions for the party's virtual state convention. As a result of the delays, the convention will conclude Sunday instead of Saturday.
"State Republican Executive Committee voted to reconvene the Republican Party of Texas State Convention on Saturday, July 18 with business concluding on Sunday evening, July 19," RPOT Chair James Dickey stated in a message to convention delegates. "Convention business will convene beginning at 8:00 a.m. on Saturday, July 18. A final state convention schedule will be distributed to you by noon today."
The extra day will allow organizers time to try to iron out technical difficulties that have prevented the convention from getting going.
Aside from the general opening session Thursday, at which Gov. Greg Abbott defended his mandatory mask order, no caucus or committee meetings took place on Thursday. The system required to ensure delegates were properly credentialed in order to participate and cast votes was not working properly.
There were nearly 6,000 comments posted regarding the problems. Most of them were negative.
One poster had nothing kind to say. "Dickey is pushing his choice and no other choice, no matter what the SRECs want or suggests. Dickey OWNS THIS TRAINWRECK!!!"
"People have planned for MANY months to have off work for the convention during this week. You cannot possibly expect us to all be able to take off AGAIN?!," wrote another.
Before the convention ended for the day Thursday, there were many concerns expressed about the process and whether they would be able to get the required business done in time to meet the national GOP's requirements for Texas to provide its list of delegates for the national convention later this month.
At one point during the discussion about canceling today's events, a character with red eyes and the text "I warned you" flashed on the screen.
Conspiracy theorists have asked if the problems are manufactured to delay or prevent discussion of motions to censure Gov. Greg Abbott, who is facing increasing criticism from within his own party.
The convention is needed to select national delegates and finalize the party's platform.
The party refused repeated requests to move the meeting online to avoid risking increased spread of COVID-19 from such a large gathering. They were forced to go online when Houston Mayor Sylvester Turner and Houston First said no to allowing the George R. Brown Convention Center to be used as the venue.
The Texas Democratic Party continues to poke fun at the Republicans and their difficulties in getting the virtual convention going. A news release sent out last night included a photo of a dumpster fire and the headline: "Turns Out It's Not So Easy Running a Virtual Convention."
Texas Democrats held their virtual convention last month.