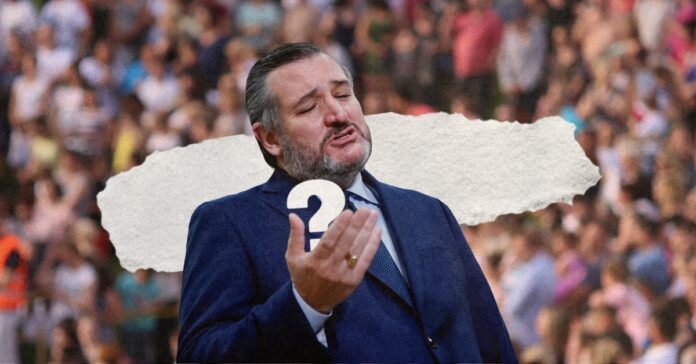 The last time a Democrat was elected to a statewide election in Texas was in 1994. Texas hasn't backed a Democratic president since 1976 or a Senate seat since 1988.
The state's voting history and the fact that senate incumbents rarely lose, everything is in Ted Cruz's favor and celebrating what would be an easy win for him after U.S. Rep. Colin Allred (D-Dallas) and State Sen. Roland Gutierrez (D-San Antonio) announced their respective bids against him, over a year in advance is not totally presumptuous.
"Bottom line, Allred is too extreme for Texas," a spokesperson for Cruz said in a statement following Allred's announcement in May. "Texans will now get to watch Colin Allred and Roland Gutierrez slug it out for who can be the most radical leftist in the state," the spokesperson added after Gutierrez joined the race.
However, in the years since his near-death experience in 2018 where he won by only three points against Beto O'Rourke, he has become nationally loathed and Texas has arguably become bluer in the past decade.
"I can't help but think that even if some voters may look somewhat favorably at Allred or Gutierrez, I think that they may still be skeptical about party identification," said J. Bryan Cole, an associate political science professor at the University of Houston. "So, seeing themselves as Republicans may carry the day, even if they also don't really like Ted Cruz."
However, Democrats are still hopeful that someone can finish what the then-representative O'Rourke started when he came close to winning in 2018.
"Obviously the candidate matters, but a candidate rises or falls on conditions that are not always of their own making," James Henson, the executive director of UT-Austin's Texas Politics Project, told Texas Monthly.
An important thing to note about 2024 is that it's a presidential year. If former, twice-indicted, President Donald Trump were to be the Republican nominee then that would have a domino effect across the ticket.
"If a lot of people were turning out in November of 2024 against Trump, even if not necessarily pro-Biden, then that would be to the benefit of the Democratic nominee. Whoever that ends up being," Cole said.
The 2024 Senate landscape looks risky for national Democrats. In contrast to Republicans' eleven, Democrats are defending nearly two dozen seats. Given that, Texas is one of the Democrats' less hopeless opportunities to pick up a seat and draw in more blue donors.
Gutierrez is new to the race but Allred has already raised an impressive $6.2 million in his first two months of the race — compared to O'Rourke, a fund-raising juggernaut, who took about nine months to raise the same amount in 2018.
If they want to win, Democrats will need to either replicate or build on the foundation O'Rourke created in 2018.
"O'Rourke really captured the imagination of Democrats who believed that he could beat Cruz. His weaknesses were really more policy-driven," Jason Villalba, the chairman and CEO of the Texas Hispanic Policy Foundation, a nonpartisan nonprofit, told Texas Monthly. "He was comfortable taking that Kennedy-style role while campaigning, but frankly, in Texas, that's not what voters are looking for. The classic East Coast liberal might be able to drop an f-bomb in an interview or ride a skateboard, but that's not exactly what rural Texans are wanting in their United States senator. Allred has got a lot of characteristics of the classic Democrat that voters here have supported before."
Allred is a fourth-generation Texan, raised by a single mother in Dallas, he is a former college and NFL football player. He worked as a voting rights attorney prior to his first election. In contrast with O'Rourke, Allred does not shy away from making stark contrasts between himself and Cruz.

"I want to give folks something to hope and vote for, but we also have to talk about how ineffective and—in some ways—damaging Ted Cruz has been in the decade-plus he's represented us in the U.S. Senate," Allred told Texas Monthly.
Gutierrez made a name for himself at the national level because of his persistent focus on gun safety following the 2022 massacre at Uvalde's Robb Elementary School. He has — because of his advocacy— gotten in trouble at Lt. Governor Dan Patrick's Senate multiple times. He is confident that he is the candidate who can gain Republican votes.
"We will win because Texans are done with Ted Cruz. We won't be neglected or brushed aside any longer," Gutierrez said in a statement sent to Texas Monthly. "I am no stranger to tough fights, I've flipped a Republican State Senate seat in rural Texas. I will work hard and continue to do what I've always done—talk to voters from all across Texas, in communities that look like mine, and tell the truth."
While Gutierrez won his Senate seat in 2020 over a Republican incumbent, his district has historically been blue, voting for President Joe Biden by a margin of 53–45 during the presidential election.
With two good potential candidates, Democrats have at least managed to overcome an issue that has long persisted in the state — having credible candidates.
However, the Democratic primary can also pose a challenge to the party. Both the candidates will have to fend each other off before they can fight Cruz for the Senate seat. And if neither of them can get 50% of the votes then there will be a runoff in May.
"Now that Gutierrez has jumped into the Democratic primary, now, that means that they will have to duke it out and so they will have to fight against each other before they can take on to see who can take on Ted Cruz," Cole said.
In addition to that, Democrats need to gain Republican support in order to win a statewide election in Texas. In order for either Allred or Gutierrez to win, they will need Republican votes. In 2018, O'Rourke was able to come so close to winning because hundreds of thousands of Texans who voted for Governor Greg Abbott split their ballots and voted for him in the Senate race. Texas has been called a battleground state for the upcoming election and has arguably been bluer but that doesn't account for the Republican votes in rural parts of the state.
"I don't see it (Texas) as a battleground state I think that that's been hyped a lot…it is true that in recent elections, there have been counties suburban counties like Fort Bend and Hays County out near Austin birds Williamson County also out near Austin, have gone blue with O'Rourke and Clinton and Biden," Cole said. "So, that definitely is happening because those are places that 10-20 years ago would have been reliably Republican. So there are some trends in which Texas, parts of Texas are going blue. But at the same time, the large swathes of rural Texas are every bit as Republican, if not more so they have been all along."
In 2018, O'Rourke was only able to win support from 24 percent of the voters living in Texas's 186 rural counties.
As of last fall, more than 50 counties in Texas have no local chair to help run door-knocking campaigns, in order to garner support from those counties national Democrats need to invest in campaign infrastructure at rural levels.
Allred and Gutierrez have not yet battle-tested at the statewide level; it remains unclear whether they can make it past those hurdles or not.