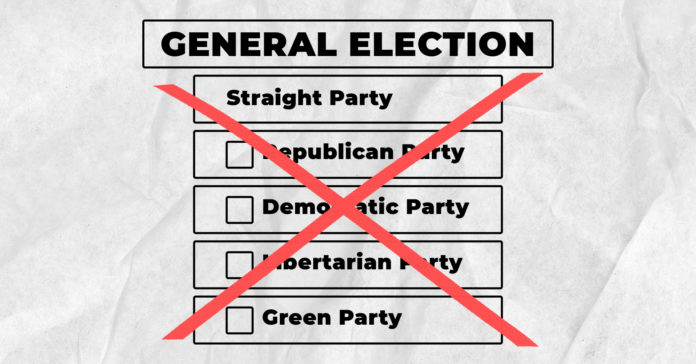 A sweeping change to voting in Texas could mean long lines and lengthy waits at the polls as voters navigate ballots without the benefit of the single-punch option for straight-ticket voting.
This is the first election since the Texas Legislature voted to eliminate straight-ticket voting in 2017. With an additional 1.5 million voters added to the rolls since 2016, Texas has a record 16.6 million voters registered to vote in the Nov. 3 election. Voter registration continues through Oct. 5, the deadline for registration applications to be postmarked.
The large number of registrations indicates a record turnout, according to experts and political observers.
More than 70 percent of Texas voters took advantage of straight-ticket voting in 2018, when 8.3 million votes were cast, according to Brandon J. Rottinghaus, University of Houston political science professor and author of a research study on straight-ticket voting.
"This election year is the perfect storm for long lines in Texas," Rottinghaus said. "The loss of straight ticket voting will slow voters' progress when voting, surging turnout in a polarized election year and a move to vote centers in major counties, leading to polling place consolidation, will mean longer lines in several large counties."
As a result of the pandemic, many voters will face a longer ballot than usual because many May elections for city council and school board races across the state were delayed until November.
According to Rottinghaus' research, only eight states still allow straight-ticket voting, an option that is more detrimental to Democrats, who have used the single-punch option more often than Republicans in recent years.
As a result, the Texas Democratic Party, along with national Democratic groups, filed a federal lawsuit in March, seeking to preserve straight ticket voting, which was used by more than 5.6 million voters in the 2018 midterm election. The suit alleges that the elimination of straight-ticket discriminates against Black and Hispanic voters, who are the most burdened by long waits.
"Following record growth in both voter turnout and use of straight-ticket voting in the state that consistently ranks at the bottom of the country for voter turnout, Texas decided voting had become too convenient for its citizens, and especially its minority citizens," the lawsuit states.
"In ending a century-old voting practice that Texans have relied on to exercise their most fundamental and sacred rights — the rights to political participation and association — Texas has recklessly created a recipe for disaster at the polls in 2020," the suit states.
U.S. District Judge Marina Garcia Marmolejo threw out the case, ruling that Democrats' arguments were based on speculation of what could occur without straight-ticket voting.
Although Democrats used straight-ticket voting in larger numbers, Republicans also widely took advantage of the option. This year, GOP leaders are urging supporters to make sure to vote on the whole ballot.
In 2018, Republicans suffered numerous casualties in down-ballot races due to straight-ticket voting, including veteran Harris County Judge Ed Emmett, who lost to political novice Lina Hidalgo by 19,000 votes when more than 500,000 Democrats voted a straight ticket, as did 400,000 Republicans. 
Among other Republican losses were 12 members of the Texas House, including former State Rep. Ron Simmons of Carrollton in the Dallas area, who championed the bill to end straight-ticket voting, as well as two state senators and various judges across the state.
"Straight-ticket voting is an incumbent protection plan in a gerrymandered political system," Rottinghaus said. "If districts are drawn to favor one party or the other, straight-ticket voting encourages partisans to turn out to support the well-entrenched incumbent."
With a popular and charismatic Democratic candidate like Beto O'Rourke on the ballot in 2018, turnout surged to 46 percent of the voting age population and was higher than the turnout rate in six of the past 10 presidential elections. As a result of the large Democratic turnout, and use of straight-ticket voting, O'Rourke narrowly lost his bid to unseat U.S. Sen. Ted Cruz by 2.56 percentage points and delivered numerous down-ballot victories for the party. 
Republicans pushed for the elimination of straight-ticket voting, anticipating that it would help protect incumbents. Yet some raised concerns that elimination of the option could be as detrimental to their candidates as it would to Democrats.
Texas GOP Chair Allen West warned party voters in a video that "you can't just click a box that says "Republican all."
"This is vital, it's so important, that you have the resolve, you have the patience, you have the perseverance to stay in that ballot booth and go all the way down the boxes," West said. "An empty box is a vote for a Democrat."
Likewise, Democrats are also appealing to their voters to work their way down the entire ballot.
"With our quality candidates such as railroad commission candidate Chrysta Castaneda, our top-notch recruits running to fight for their communities in the State House, and our judicial candidates fighting to bring justice back to the courts, Democrats have quality candidates up and down the ticket," said Texas Democratic Communication Director Abhi Rahman.
"Texas Democrats will crawl through broken glass to flip the state blue in 2020," he said.
In 2018, more than a dozen seats were decided by less than a 5 percent margin and even more tight races are expected this cycle, Rottinghaus said.
"Without the straight-ticket option, voters are more likely to split their tickets, which might lead to interesting and politically contradictory outcomes," he said.