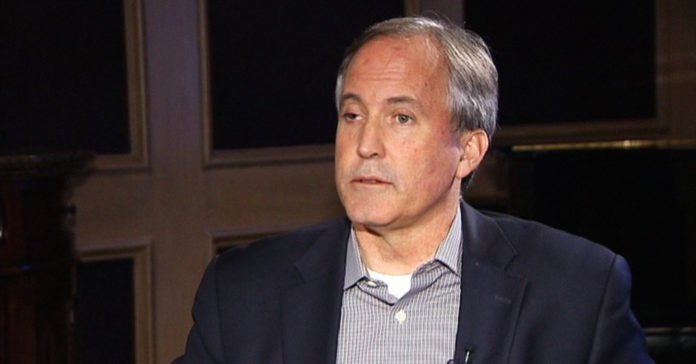 In a move well-timed to capitalize on President Donald Trump's campaign calling into question the integrity of voting by mail, Texas Attorney General Ken Paxton, a Republican, has announced the indictments and arrests of a Gregg County commissioner and four others in connection with an alleged vote harvesting scheme.
Those facing charges include Commissioner Shannon Brown and his wife, Marlena Jackson, Charlie Burns and DeWayne Ward. They are accused of using mail ballots to increase the pool of ballots needed to swing the race in Brown's favor in 2018. They helped young, able-bodied voters fraudulently claim they were "disabled" and eligible to vote by mail, in most cases "without the voters' knowledge or consent," according to a news release from Paxton's office. 
"This case demonstrates my commitment to ensuring Texas has the most secure elections in the country, and I thank the Gregg County sheriff and district attorney for their continued partnership," Paxton said in a statement. "Those who try to manipulate the outcome of elections in Texas must be held accountable."
The four defendants face 134 felony charges, including engaging in organized election fraud, illegal voting, fraudulent use of an application for a mail-in ballot, unlawful possession of a mail-in ballot, tampering with a governmental record, and election fraud. Penalties for these offenses range from six months in state jail to 99 years in prison.
Paxton and the Gregg County district attorney intend to jointly prosecute the case.
Earlier this week, Trump declined to commit to a peaceful transition in the event he loses in November, repeating his unsubstantiated claim that mail-in voting could lead to fraud. The president and members of his family will vote by mail this year and they have been urging GOP Texans to do the same. 
Paxton, who announced the Gregg County indictments a day after he and other attorneys general met with Trump at the White house, has been fighting tooth and nail to prevent Democrats from winning expanded voting by mail during the pandemic. The Texas Supreme Court is scheduled to hear oral arguments in the latest round in the ongoing fight next week. Paxton has, so far, been successful, however, the Texas Supreme Court has ruled that it is up to each individual to decide for themselves if they qualify to vote by mail. Election officials are not authorized to query about the reason.
Under Texas election law, mail ballots are limited to those 65 and older, disabled people, and those who will be away from their county of residence during early voting and on Election Day.