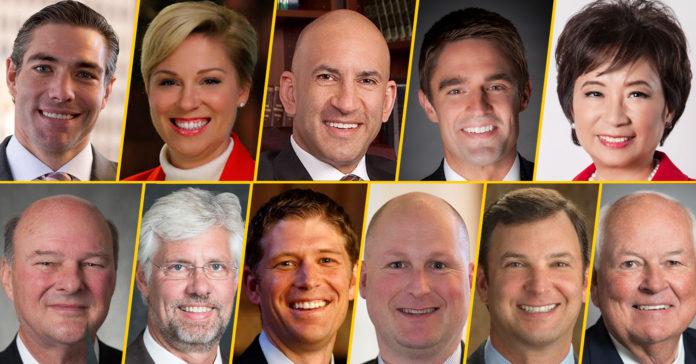 Update: Cook Political Report on Monday also joined in the prognosticating about the Texas House, moving it from leaning red to begin a toss up.
---
There are new predictions that the longtime Republican hold on the Texas House is about to end. 
Texas Election Source, a respected data-driven source of Texas election and voter trends, is predicting that Democrats will pick up 10 additional Republican-held seats while losing none that they currently hold, which would give the Democrats a 77-73 majority entering the 2021 legislative session. Five more Republican-held seats are projected to be within 2 points of a potential flip.
The predictions are based on President Donald Trump winning in Texas over former Vice President Joe Biden by less than 1%. That is the only scenario under a Trump win that the Democrats will pick up at least the nine seats they need to gain the majority in the Texas House. If Trump's margin of victory is wider, Democrats will take fewer than nine seats.
If Biden should beat Trump, however, Democrats could take as many as 14 seats in the house.
TES predicts House districts 108 and 134 are likely to go to the Democrats. That puts incumbents Morgan Meyer (R-Dallas) and Sarah Davis (R-Houston) in danger of losing their seats.
House District 66, held by Matt Shaheen (R-Plano), District 67, held by Jeff Leach (R-Allen), and District 112, held by Angie Chen Button (R-Garland), are ranked as leaning Democratic. The district 138 seat is also in the leaning Democrat column. It is an open seat due to the retirement of Republican Dwayne Bohac.
Possible toss-ups are districts 14, 26, 64, 92, 93, 94, 96, 97 and 121. Incumbent Rep. John Raney (R-College Station) represents District 14. Rep. Lynn Stuckey (R-Sanger) currently holds the District 64 seat. Rep. Matt Krause (R-Fort Worth) is the incumbent in District 93. Tony Tinderholt (R-Arlington) currently represents District 94. Rep. Craig Goldman (R-Fort Worth) is the current state representative for District 97. And incumbent Steve Allison (R-San Antonio) holds the District 112 seat. Districts 26, 92, and 96 are open seats.
TES ranks five districts as leaning Republican — 28, 29, 54, 126 and 129.
The districts in the TES analysis are all of the so-called battleground districts Texas Democrats have targeted in their take back the Texas House campaign.
RA News polling across 22 competitive Texas House districts shows Democrats could gain up to 11 seats.
"We're on the verge of making history and ensuring that the people of Texans have their voices heard," stated Texas Democratic Party Spokesman Abhi Rahman. "Still, we cannot rest on our laurels. We need all hands on deck to ensure that every Texan makes their voice heard. Get your friends, family, colleagues, neighbors, and everybody you know to make a plan to vote at MyTexasVotes.com. This is our moment. This is our time."