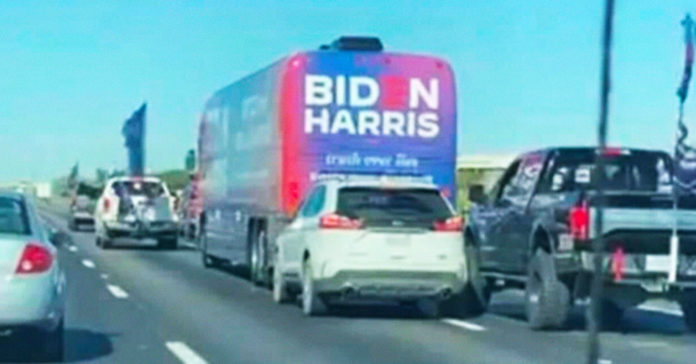 President Donald Trump has been tweeting his support and praise for a group of his supporters who harassed former Vice President Joe Biden's Soul of the Nation Texas bus tour on Friday.
"In my opinion, these patriots did nothing wrong," Trump tweeted on Sunday. "Instead, the FBI & Justice should be investigating the terrorists, anarchists, and agitators of ANTIFA, who run around burning down our Democrat run cities and hurting our people!"
The president brought the incident up during weekend rallies, and he tweeted about it again Monday morning in response to a CNN report that the FBI had opened an investigation.
"This story is FALSE. They did nothing wrong," the president stated. "But the ANTIFA Anarchists, Rioters and Looters, who have caused so much harm and destruction in Democrat run cities, are being seriously looked at!"
A video of the incident shows Trump supporters trying to run the Biden bus off the road as it traveled from San Antonio to Austin. Two of the cars in the caravan, one driven by a Trump supporter and the other by a Biden supporter, collided.
The dangerous encounter underscores the growing concern that there will be violence tomorrow night as election returns come in.
"It sort of boggles my mind that he didn't recognize this as an act of electoral intimidation and harassment," said Idean Salehyan, a University of North Texas political scientist and executive director of the Peace Science Society, in the Dallas Morning News. "He's not directly egging it on but … what was done was clearly reprehensible, and rather than condemning it, his reaction is to praise his supporters."
Like Trump, neither the Republican Party of Texas nor any prominent Texas Republicans have condemned the incident.
"It is more fake news and propaganda. Prepare to lose… stop bothering me," Texas GOP Party Chair Allen West said in a statement provided to the Texas Tribune.
Biden's response was to take the high road.
"Folks, that's not who we are," he said. "We are so much better than this. We're so much better than this. It's not who we are."
The former vice president's campaign was a little more pointed.
"Rather than engage in productive conversation about the drastically different visions that Joe Biden and Donald Trump have for our country, Trump supporters in Texas [yesterday] instead decided to put our staff, surrogates, supporters, and others in harm's way. Our supporters will continue to organize their communities for Joe Biden, Kamala Harris and Democrats up and down the ballot, and to the Texans who disrupted our events today: We'll see you on November 3rd," a campaign statement read.

Gov. Greg Abbott has Texas National Guard troops on standby to respond in five Texas cities — Austin, Dallas, Fort Worth, Houston and San Antonio — in the event of violence. He has said they will be deployed on an as-needed basis.