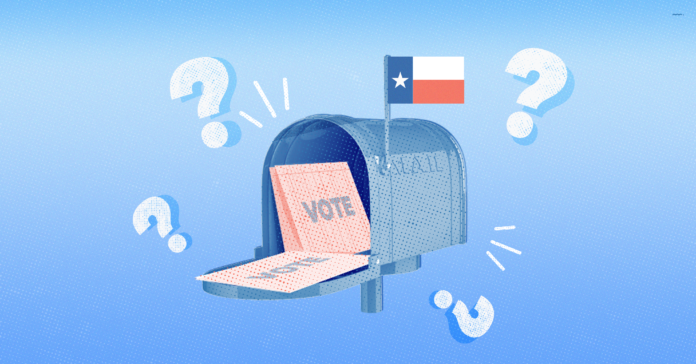 On the heels of a court decision expanding voting by mail in Texas, county election supervisors are bracing for what needs to be done to carry it out.
The coronavirus pandemic has thrown elections into turmoil. Numerous legislative runoffs and other contests, such as the runoff between Royce West and MJ Hegar over who will be the Democratic nominee for Senate who takes on incumbent John Cornyn, are postponed to July as the state tries to wait out the worst of the outbreak. This has led to efforts to expand the state's restrictive mail-in ballot system to include all Texans.
Wednesday, Democratic Travis County Judge Tim Sulak issued a temporary injunction that would allow all Texans who fear exposure to the coronavirus from in-person voting to, instead, request a mail ballot. Previously, only Texans who were 65 years or older, disabled, in jail or out of the county on Election Day and during early voting were eligible to vote by mail.
Sulak's decision has been applauded by the Texas Democratic Party, which filed the legal challenge.
Civic engagement groups such as the League of Women Voters, also saw the injunction as a major step forward for voting rights.
"This is truly a victory and exalts the Texas judiciary as a shining example of how to balance the constitutional right to vote with legitimate health and safety concerns," said Chris Carson, president of the board of directors of the U.S. League of Women Voters in a statement. "The league is no stranger to these lawsuits across the country, and we will continue to work on behalf of voters nationwide to expand and protect access to the ballot in these unprecedented times."
Though the case will certainly be appealed, leaving the final decision in doubt, those who administer elections at the county level have started thinking about how to implement the mail ballot expansion.
Roxanne Werner, director of community relations for the Harris County Clerk's Office, said that as of right now, they are still planning for far more in-person voting than mail-in and have continued with initiatives to make that as safe as possible by stocking up on protective equipment like gloves and masks as well as training poll workers remotely rather than in person.
However, they are also now factoring in more interest in the mail-in system. A large community outreach program is on the table which will, hopefully, walk Harris County voters through the mail-in ballot process and make sure they are eligible and counted. They remain in a holding pattern, though, as the case continues to make its way through the courts.
"We definitely expect more mail-in ballots after this," says Werner.
Travis County is taking a hard look at their equipment stores, according to Chief Deputy Clerk Dana Hess, who noted there are a lot of machines that are involved in mail-in ballots. She anticipates needing more equipment to print envelopes, print ballots, open envelopes, sort ballots, and count ballots as well as people to train and use all of that technology. Her office is currently scouting the cost of acquisition of extra machines so she can ask for more money. They won't be available in time for the currently rescheduled summer run-off election, but they will be included in the budget for the November general election that she files at the end of September.
"It's hard to predict exactly what we'll be doing," said Hess. It will all depend on what everything looks like when we get closer to the election. We are expecting a lot of mail-in ballots, whether the expansion ultimately goes through or not. I imagine other counties are doing the same."
Unfortunately, the same pandemic that is making expanded mail-in ballots a possibility is also hampering the offices of the people overseeing the elections.
Many county clerks' offices, including Dallas County, are closed and running on skeleton staffs.
The companies that make the equipment Travis County hopes to order have their own outbreak-related problems that may result in delays.
The state could help eliminate the uncertainty and delays by dropping the idea of appealing the judge's decision, but that doesn't appear likely. Attorney General Ken Paxton has made it clear he intends to fight as long as the courts will allow him to do so.