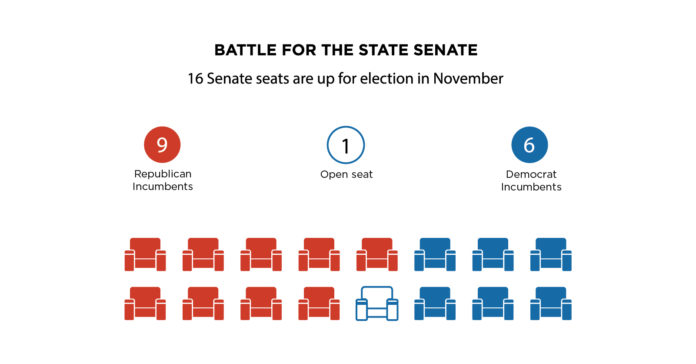 With the filing deadline for the March 3, 2020 primary over, Texans now know who will be running for the 16 Senate seats in play.

Of 16 incumbents, nine Republicans and six Democrats opted to seek re-election this term. That leaves one seat entirely open to a new senator in the Texas Senate.

Earlier this year, District 29's Sen. José Rodríguez (D-El Paso) announced that he would retire after serving over 10 years in the Texas Senate. Rep. César J. Blanco (D-El Paso), who previously served as chair of the House Democratic Campaign Committee will run to replace him, in addition to Republican candidate and local business owner Bethany Hatch.

For the remaining 15 incumbents seeking re-election, three will run unopposed for the 2020 race, ensuring their return for the next term.

That includes five-term state representative Carol Alvarado (D-Houston) who won her seat outright in the previous special election, José Menéndez (D- San Antonio), who has served one previous term in the state senate and 14 years in the house, and Republican incumbent Charles Perry (R- Lubbock) who has served since 2014 and ran uncontested in the previous election.

Two Democratic incumbents are facing intraparty opposition, and not a single Republican candidate will be facing an opponent from their own party during the primaries.

After several allegations of sexual misconduct, Borris Miles (D- Houston) faces opposition from two Democratic candidates—physician Richard Andrews and trial lawyer Melissa Morris—as well as one Republican candidate, global strategist William Booher.

Veteran state Sen. Eddie Lucio Jr. will face his first major primary challenge since 1992. Considered by many to be the most conservative Democrat in the Texas Senate, his opponents are likely to bring up his history of voting in opposition to women's reproductive freedoms and LGBTQ rights.

Two Democratic candidates filed in Lucio's Senate District 27: Sara Stapleton-Barrera, a trial lawyer, self-proclaimed progressive, and daughter to former Cameron County Democratic chair; and Ruben Cortez, a current member of the State Board of Education. Lucio's Republican opponent, Vanessa Tijerina, is a former Green Party congressional candidate likely to face questions as a subject of past news stories.

Campaign forecasts suggest one Republican could face a close race in the next political term. Pete Flores (R-Pleasanton) has been serving for little over a year in Texas' Senate District 19 after winning by 6 percentage points in last year's special election runoff. This district leaned strongly Democratic in the 2016 election, with Hillary Clinton carrying the district by 12 points.

Four Democratic candidates will compete in the primary, including: Roland Gutierrez (D-San Antonio), the current Texas representative of House District 119; Xochil Pena Rodriguez, a practicing attorney and daughter of former Rep. Ciro Davis Rodriguez, Bexar County prosecutor Alfredo Ramirez, and political newcomer Belinda Shvetz.