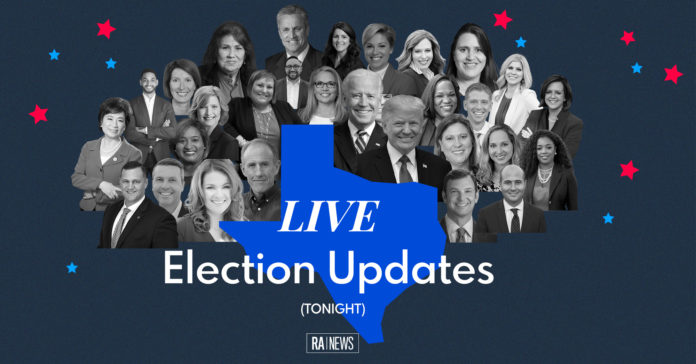 The transformation of Texas from red to blue is not yet finished. Democrats poured millions of dollars and plenty of effort into this year's election, but it was not enough to eliminate the GOP's decades-long hold on the Lone Star State.
The Race for President
In the final days of campaigning, Texas had been labeled a toss-up state, but the outcome was far from a toss-up. With 96% of the state's counties reporting, President Donald Trump was ahead of Vice President Joe Biden, 52.23% to 46.36%.
Trump won handily despite not spending a dime in Texas during the last week of the campaign. Neither candidate visited Texas in recent days. Biden running mate Sen. Kamala Harris (D-Calif.) was here last Friday, and National Democratic Party Chair Tom Perez stopped by over the weekend. Trump had former Gov. Rick Perry and other surrogates campaigning on his behalf in the final days.
The Lone Star State hasn't been viewed as a player in presidential politics since Jimmy Carter was elected president.
Cornyn Wins
Texas U.S. Sen. John Cornyn (R-Austin) is headed back to Washington after defeating Democratic challenger MJ Hegar.
"It is the honor of my life to serve Texas in the U.S. Senate. Inspired by your trust and your patriotism, I will continue to be a strong voice for our values in Washington. Thank you, Texas," Cornyn tweeted.
Both candidates took nothing for granted, campaigning down to the wire. Hegar's approach was to paint Cornyn as being out of touch. Cornyn described Hegar as too liberal for Texas.
Cornyn consistently led Hegar in the polling throughout the campaign. Thanks to an influx of Democratic cash, Hegar narrowed the gap but was not able to close it completely.
"I'm not a career politician, running for U.S. Senate was never my plan," said Hegar in a statement. "I'm just one of the millions of Texans who saw the world we're giving our children and thought 'hell no.' Together, we stood up and got to work, building a powerful grassroots campaign from the ground up, shattering voter turnout records, and most importantly, sending a message to a previously safe senator that he answers to us. I am confident that the work we did will move our state forward for years to come."
No Flip of the Texas House
Texas Democrats had hoped to turn the Texas House blue for the first time in almost two decades. They needed to win nine seats, and the battleground districts were located in suburban areas where Democrat Beto O'Rourke outperformed U.S. Sen. Ted Cruz two years ago. With incomplete returns as of early Wednesday morning, it appeared they were on track to take back just one seat. Although the Republican incumbents were leading, four other races were too close to call as of the filing of this story. Regardless of their outcome, the GOP was positioned to maintain control of the legislature's lower chamber for two more years.
The one seat that appeared to have flipped blue was District 134 in Houston where Democratic challenger Ann Johnson was winning against incumbent Sarah Davis (R-Houston).
Several Democrats had announced their intentions to run for speaker of the house. Without the majority of the chamber, they will face an uphill battle. Democrats will also continue to face difficulty influencing the outcome of major policy issues, such as health care (including Medicaid expansion), education funding, redistricting and abortion rights. 
Texas Senate
The races for Texas Senate were overshadowed by all the focus on the Texas House. Again with incomplete totals, Democrats appeared to have flipped Senate District 19, taking the seat held by incumbent Pete Flores (R-Pleasanton) and handing it to Democrat Roland Gutierrez.
Control of Congress
Democrats had also hoped to flip the Texas Congressional delegation.
As of posting time, they were on track to flip just one GOP-held seat, U.S. House District 23, where Gina Ortiz appears to have defeated Republican Tony Gonzales. Republicans were holding on to the other nine seats that had been targeted by Democrats.
Texas Supreme Court
All four Republican incumbent Texas Supreme Court justices — Chief Justice Nathan Hecht, and Justices Jane Bland, Jeffrey Boyd and Brett Busby — were headed toward easy victories.
Texas Railroad Commissioner
Despite $2 million of help from billionaire Michael Bloomberg, Democrat Chrysta Castañeda was unable to beat Republican James Wright in the race for Texas Railroad Commissioner. Wright beat incumbent Ryan Sitton in the Republican primary last March to win the Republican nomination.
Wright faced a bit of controversy during the campaign when it was revealed that he has been fined for environmental violations by the railroad commission.
Who Voted
Turnout across Texas was brisk on Election Day with a steady stream of voters but no long waits, signaling that most voters took advantage of the longer early voting period Gov. Greg Abbott had offered in hopes of spreading the voting out during the pandemic.
Nearly 10 million Texans cast ballots in person or by mail during the three weeks of early voting, surpassing the number of ballots cast in the 2016 election. The final statewide turnout figure was expected to total somewhere between 60% and 70% of all registered voters.
Many of this year's voters cast ballots for the first time, an outcome of increased voter registration efforts by both parties as well as an influx of new residents. There were also more young people voting and higher turnout in the Latinx community.
Problems?
COVID-19-related staffing shortages were blamed for causing delays in counting mail ballots in Tarrant County, the last big Texas county still under Republican control. The county brought in 56 more people to help with the task, but still did not expect to finish counting Tuesday evening. About a third of all mail ballots had to be manually tabulated because of printing defects that prevented them from being read by the optical scanners.
In Harris County, a federal judge ordered the U.S. Post Office to conduct sweeps of local post offices for any mail ballots that had not yet been delivered to county election officials.
Another federal judge extended voting until 8 p.m. for Upshur County residents after some technical issues shut down the computer system for about 90 minutes Tuesday morning.
Elsewhere, there were other minor technical issues, but as of late Tuesday, Texas appeared to have, so far, escaped the violence that some had worried could occur on Election Day.