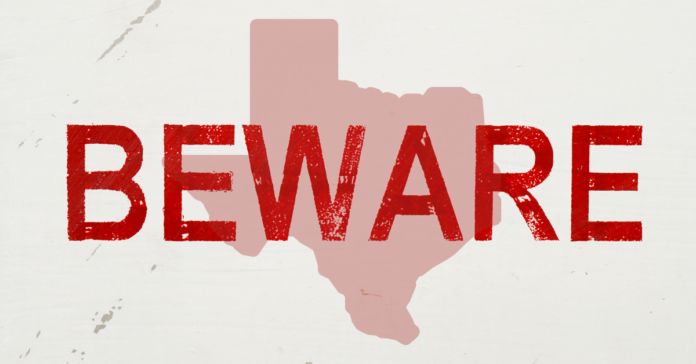 As the November election period looms, Texas voters need to be especially careful that they cast their votes appropriately, as Texas attorney general Ken Paxton has a history of elevating simple mistakes in voting to cases of fraud with draconian punishments, according to a recent New York Times report.
Where most states have a system of probation or fines set up for citizens convicted of voting irregularities, Texas and other red states such as Florida and Tennessee seek to levy heavy penalties on black and brown voters who unknowingly commit voter fraud, while giving a slap on the wrist with no criminal charges to white voters who commit the same mistakes.
In Texas, take the case of Rosa Maria Ortega, a legal immigrant with legitimate green card status who was sentenced to eight years in a Texas prison for unknowingly voting illegally in 2012 and 2014.
Crystal Mason, an African American woman, was sentenced to five years in prison for casting a ballot in 2016 while on federal probation for a tax felony. The case is being reviewed by the Texas court only after being ordered to do so.
GOP leaders like Ken Paxton, who prosecuted both of these cases, may well be the most overzealous of state leaders when it comes to cases of voter fraud prosecution, which are viewed by a majority of states and their leaders as having no impact on election outcomes. The cases are so rare as to make them moot in the tabulations of voters by precinct, roughly one and one-half per state per year.
Paxton runs a $2.2 million-a-year election integrity unit that claims to have a 15-year record of prosecutions, and although his website claims to have prosecuted over 500 incidents of fraud against over 150 citizens, a vast majority end in acquittals.
For example, in the entire 2020 election cycle only 16 cases were found by Paxtons crew. All 16 were Harris County residents who put the wrong address on their registration applications when compared to what the county had listed on file, per the Houston Chronicle, and none of the defendants were sentenced to serve time.
Meanwhile, Mark Meadows, former White House chief of staff for President Trump, was intentionally registered to vote in three states — North Carolina, Virginia and South Carolina. One address was a rusted out trailer in rural Macon County, NC. He neither owned or ever lived at that address.
Meadows, who became senior partner at the Conservative Partnership Institute (CPI), which promotes "election integrity"efforts, used the trailer to vote absentee in 2020. No charges have been filed against either Meadows or his wife Debra, despite his insistence that voter fraud cost Trump the presidential election in 2020.
Voter roll maintenance has been one of the great dividing lines in American politics going back decades. Republicans, who are big proponents of purging the rolls, typically argue that if voter registration records are not regularly updated, election fraud can take place. Whereas Democrats push back that too many voter-list purges are conducted with questionable intention by red states, in essence removing eligible voters who don't learn they are no longer listed until they show up to vote. This leads to the casting of provisional ballots that may or may not ever be counted, according to the state of Texas "Notice to Provisional Voter" online document.
Multiple red states including Tennessee have followed Paxton's lead. Pamela Moses, a racial justice activist who mistakenly violated a ban on voting by felons was sentenced to six-years prison time in 2021. But prosecutors were ordered to abandon that effort as Moses was given a new trial by Amy Weirich, the district attorney of Shelby County, who, in a statement said that the 82 days served by Ms. Moses in custody during the case was enough.
In Florida, multiple inmates in a Gainesville jail were presented with a seminar conducted by state election officials telling them how to vote, so they did. Despite that fact, they were charged with voter fraud.
Since Ron Desantis became Florida's governor on the coattails of former president Donald Trump 2016 victory, penalties have increased dramatically from previous years when violations resulted in probation, small fines, jail time served as part of the sentence they were already serving.
The Washington Post reported that African American Floridian Leo Grant Jr., who voted for the first time in 2020, was arrested this week at his home in front of his children and shackled and taken to jail.
The reason authorities gave? Even though he had served his time for a 1999 sexual offense conviction he had violated state law by voting. Despite the fact that he is a father of three, homeowner and local mason, he was targeted by DeSantis' newfound zeal for seeking out suspected fraud in the wake of Trump's loss in 2020.
However, when four residents of the majority white and MAGA leaning retirement community known as The Villages were arrested in 2021, the result of the charges were starkly, profoundly and confusingly different.
Despite the fact that they were arrested for intentionally voting twice — once in Florida, and also in other states where they had lived, and being charged with the same third-degree felony as the black Gainesville inmates, two of the residents pleaded guilty and escaped the criminal charge by taking a voluntary 24 hour civics class.
As red state officials continue to seemingly target voters who are not historically supportive of GOP candidates, the effort begins to look more and more like yet another type of voter suppression. Penalties appear to be the most harsh on those least able to mount a defense such as the poor and minorities.
According to Richard L. Hasen, an expert on election law and democracy issues at the U.C.L.A. School of Law, the political rhetoric being amplified to a frenzy since the last election cycle makes it appear that fraud is rampant, rather than rare.