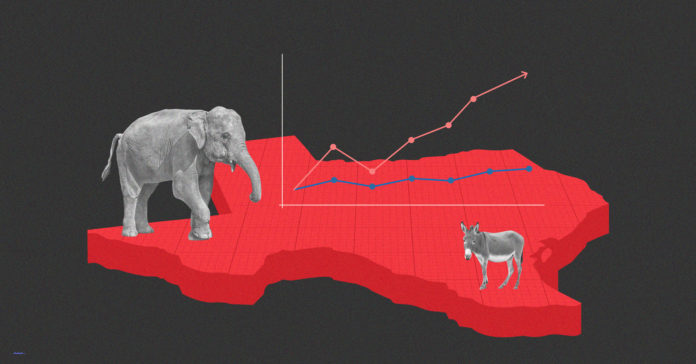 All eyes were on Texas heading into Tuesday's election. Turnout was high. Polling indicated a change was possible. It was the first time in decades the Lone Star State was considered in play. So what went wrong? Democrats just didn't turn out as expected. That's what went wrong.
"It's not just Texas Democrats. Democrats across the country were disappointed," said Southern Methodist University political science professor Cal Jillson.
Jillson said Republicans just executed better.
"Republicans have long-term problems given the demographic change that is taking place in Texas, but Democrats have short-term problems in developing a message that will be compelling to voters," he said.
University of Houston political science professor Mark Jones said one of the missing elements in this year's effort was a campaign tailored to the different segments of the Latinx community. He says one of the principal reasons President Donald Trump won in Texas was because he picked up two-fifths of the Latino vote, which is up from the 30% of that demographic that he took four years ago.
University of Texas at Dallas political science professor Robert Lowery agrees, noting that former Vice President Joe Biden did not do as well in Texas' southern border counties as former Secretary of State Hilary Clinton did in 2016.
Although he would have done the same thing, Lowery also said Democrats may have reined in their ground game too much in response to COVID-19. However, he views the outcome as being exactly what everyone expected before all of the last-minute prognosticating indicated something different.
"If you had asked people a month ago what their expectations were, a lot of people would have said that they are going to continue closing the gap with Republicans but maybe not quite yet in terms of winning offices," he said.
That's pretty much what happened. Republicans won, but the margins of victory were smaller.
So, what lies ahead for 2022? Do Democrats give it another try?
"While we achieved some goals in this election and came up short on others, we have marched forward in Texas," said Texas Democratic Party Chair Gilberto Hinojosa. "We just had the best presidential margin in decades and made inroads statewide — registering, persuading and mobilizing over 1 million more Democratic votes than the last presidential election. This is because of the movement every candidate, volunteer, and donor is helping build day by day. The slow pace of change might be disappointing at times, however over years, it is meaningful and will lead to real help for the people who need us. That is exactly what is happening in our state."
The 2022 elections will present another opportunity for Democrats to keep whittling away at the GOP hold on Texas, but Jones cautions that there's a lot of change coming in the next two years, mainly next year's redistricting, which he says Republicans will use to their advantage.
"They'll be able to update based on the 2020 election results and the demographic changes to protect some of their existing seats probably more than is presently the case," Jones said.
Jones also sees some difficulties from having Biden as president. It's no one's fault, he said. It's just harder to be a Texas Democrat running for office in a traditionally red state when there is a Democrat in the White House.
Texas Democrats had hoped to flip the Texas House, flip the Texas Congressional delegation, win the U.S. Senate race and hand Biden the state's 38 electoral college votes. They accomplished none of that.
"Congratulations to the Texas republicans who held strong and defended the statehouse," said Austin Chambers, Republican State Leadership Committee President.