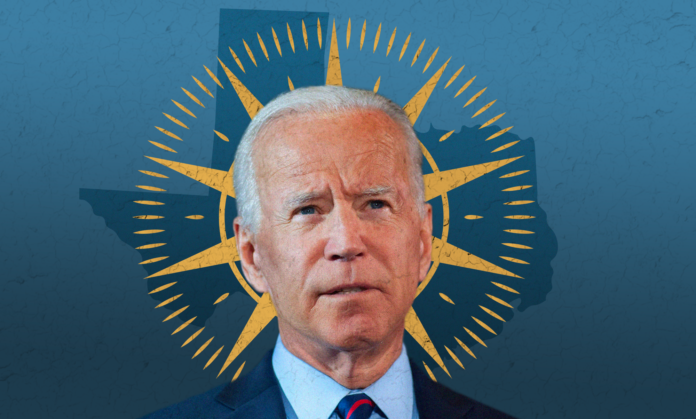 With polls pointing to a nail-biter finish between President Donald Trump and former Vice President Joe Biden, record early voting turnout and Democrats hauling in huge sums of cash in the 11th hour, all eyes seem to be on Texas.
Texas did not make the list of top-tier list battleground states such as Pennsylvania, Michigan, Wisconsin, North Carolina, Florida and Ohio, but it has suddenly gained traction as recent polls have shown a tight race, with poll results vacillating back and forth between Trump and Biden leading. The latest data shows Trump with the slimmest lead in Texas, which he carried by 9 percentage points in 2016.
The tightening race has caught the attention of national Democrats as well as political observers and strategists, who see an opportunity in the final days of the campaign.
"For some time, everyone was expecting for Trump's lead to grow, and it would grow to 5 or 6 percent," said L. Pierre DuBois, a veteran Republican political strategist, who has switched parties. "Instead the polls keep coming back, showing that Texas really is in play."
With polls showing Biden holding a solid lead nationally and in swing states, his campaign and other Democratic organizations have chosen to invest in Texas in the hopes of an upset victory while lending an assist to Democrat MJ Hegar in the U.S. Senate race as well as Democratic Congressional and other down-ballot candidates.
On Friday, the final day of early voting, Democratic vice president nominee Kamala Harris will visit Texas, where stops are planned in Fort Worth, McAllen and Houston. Harris will represent the ticket and encourage voter turnout, although an unprecedented number of Texans will have already cast early ballots.
As of Tuesday, 8.1 million voters cast early or mail-in ballots, which represents 48% of the state's 16.9 million registered voters. Texas has quashed its notoriety for low voter participation by leading the nation with an early vote turnout that is 80% of the state's total vote in 2016.
"There have been a series of unpredictable circumstances that have turned Texas into an improbable competitive state," said Richard Murray, political science professor at the University of Houston, citing factors such as Democratic voters' disdain of Trump and his management of the COVID-19 pandemic.
Changing Voters
Also driving turnout is the expansion of the Democratic base due to demographic shifts and in-migration of people from California to Texas.
"Peoples' politics don't change when they cross the state line," Murray said.
The growth of the Latinx population has been ongoing for years but combined with the wave of newcomers, drawn by higher affordability and job opportunities, Texas' cities and the suburbs surrounding them are growing bluer, according to Murray, who researches the impact of demographic shifts on state politics.
Counties like Fort Bend in the Houston area, Denton and Collin counties in the Dallas-Fort Worth area and Hays County near Austin have transitioned or are transitioning from Republican to Democratic.  Driving much of this shift is the rise in the Asian population, particularly those of Indian descent, who have flocked to these suburbs and tend to be Democratic-leaning, he said. 
"Collin is the biggest of all these counties and Beto (O'Rourke) received 47 percent of the vote there in 2018," in his challenge of U.S. Sen. Ted Cruz, Murray said. O'Rourke lost the election but narrowed the margin to a slim 2.56%.
Also helping Democrats' prospects are women, and especially suburban women, who are turned off by Trump's brand of politics and are a formidable voting bloc, turning out at a higher rate than men, according to the Texas Democratic Party. 
"Women continue to power the Texas Democratic Party and will be a key to winning in November," said Brittany Switzer, senior brand director for the party.
Murray anticipates that 9 million Texans will vote early and a total of 12 million will cast ballots in this election. Given the voting heft of the cities and suburbs, "Biden has a very good chance — the race will be very close," Murray said.
Nevertheless, Republicans statewide also have been enthusiastic early voters and are predicted to follow tradition and show up in large numbers on Election Day.
"The Democratic electorate has been expanding steadily in the last few years, and Republicans have plateaued in turnout the last few years," said Brandon J. Rottinghaus, a political science professor at the University of Houston. "Republicans, to win, need hard-core Republicans to vote but also the coalition of women, college educated and rural voters to show up in force."
The state's smaller cities such as Midland, Lubbock and Waco, as well as its vast expanse of rural counties, could again be the tipping point for Democrats. This is where O'Rourke was tripped up in 2018.
"Beto visited these counties but did no media buys or mailings," said Matt Angle, founder and director of the Lone Star Project PAC. "Cruz and (Gov. Greg) Abbott ran credible campaigns in the small towns.
"Politics is a game of blocking and tackling," Angle said. "You don't have to win in the rural areas, but you have to win your share."
Investments
In previous election cycles, Democrats have had a cash disadvantage and have chosen the more expedient course of spending on media ads in the big cities, where they would reach more voters, Angle said.
But this year, Democrats are flush with cash, worrying Republicans. Among them is U.S. Sen. John Cornyn, who told reporters that the late "spending blitz" by Democratic groups will mean "we will be outspent by more than 2 to 1."
Democrats' investment in Texas includes the Biden campaign's allocation of more than $6 million to its Texas effort, a $28 million contribution led by Silicon Valley billionaires to Hegar's campaign and a $15 million donation from billionaire Michael Bloomberg to be spent on ad blitzes in Texas and Ohio.
The Lincoln Project, a group of Republican political strategists now working to elect Democrats has upped its $1 million investment in the Biden campaign to $4 million, co-founder Mike Madrid recently told reporters in a podcast.
And the organization, known for its TV ads portraying a critical view of Trump's America, is spending its money in rural parts of Texas.
"We're going hard-core to rural Texas to peel off just 1 out of 25, 1 in 30 of these Republican voters to say 'let's make a vote for your country over your party at this moment in time'," Madrid said. "If we move just another 1 or 2 percent it's probably game over, if Hispanics turn out at the numbers we think they're going to.
"Texas is in play, it just is," he said.
Republicans are undeterred by Democrats 'last-minute efforts and spending blitz.
"While our volunteers are making millions of voter contacts and sharing President Trump's 'America First' agenda, Biden is campaigning on decimating the energy industry. It's safe to say President Trump is poised to win Texas," Samantha Cotton, a spokesperson for the Trump Victory campaign, told the Texas Tribune.