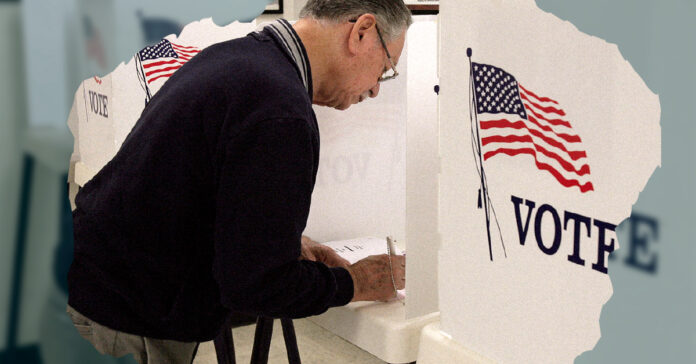 Early voting started on Feb. 14 and will continue until Friday, Feb. 25 for the March primaries in Texas.
Friday, Feb. 18 will be the last day to apply for mail-in ballots.
When is the election?
Polling sites will be open on Tuesday, March 1 from 7 a.m. to 7 p.m. You may cast your vote as long as you are in line by 7 p.m.
Are you registered to vote?
Jan. 31 was the deadline to register for this election.
You can check the status of your voter registration on the secretary of state's website.
If you moved within the same county since the last election, you should update the address linked to your voter registration. You can do this on the secretary of state's website as well.
If you moved to a new county, however, you will need to be registered with that county in order to vote.
Unfortunately, voter registration cannot be done online and must be submitted on paper. Supply chain and cost issues have reduced the number of voter registration forms for this year, so they may be hard to get.
Your voter registration becomes effective 30 days after submission and acceptance by the county voter registrar. A voter registration certificate will be mailed to you at this time. Ensure the information on this card is correct.
Do the addresses your my driver's license and voter registration need to match?
No, your license is not required to be up to date, however, it cannot be expired.
Can you vote online?
Feb. 18 is the last day to apply for a mail-in ballot. The applications must be received by this date.
Hundreds of these applications have been rejected due to new absentee voting requirements.
The information on this form must match your voter registration.
To qualify for mail-in voting, you must:
Be 65 or older.
Plan to be away from your county of residence for the duration of the election (this will include members of the military, college students, and those stationed overseas for work).
Have a disability or sickness
Be expected to give birth within three weeks before or after election day.
Be confined in jail without having been finally convicted of a felony.
You can download or request an application online.
Where can you vote?
You can check for local voting sites on your county's official website. You can vote early as long as you are registered to vote.
County elections websites are tracking wait times at some polling locations to help you save time.
What documentation can you use to meet Texas voter ID rules?
You must provide one of the following:
Texas driver's license
Texas election ID certificate
Texas personal ID card
Texas handgun license
U.S. citizenship certificate with photo
U.S. military ID card with photo
U.S. passport
If you cannot obtain any of these, you can vote by signing a Reasonable Impediment Declaration and providing one of the following:
Birth certificate
Current utility bill
Bank statement
Government check
Paycheck
Government document with your name and address, including your voter registration certificate
What is on the ballot?
Voters can choose each party's candidate for district-level elections and seven statewide races. All U.S. House seats are also up for election.
This will be the first election held using the state's new GOP-drawn political maps, which are still being challenged in court.
Can you vote in both party primaries?
No. Texas has semi-open primaries, meaning you can vote in either primary without being registered as a Republican or Democrat. However, you must vote in the same party's primary if a race goes to a runoff election, according to the Dallas Morning News.
And if you're looking for information about who's running and for what, check out this article regarding who is who in the 2022 primary races.