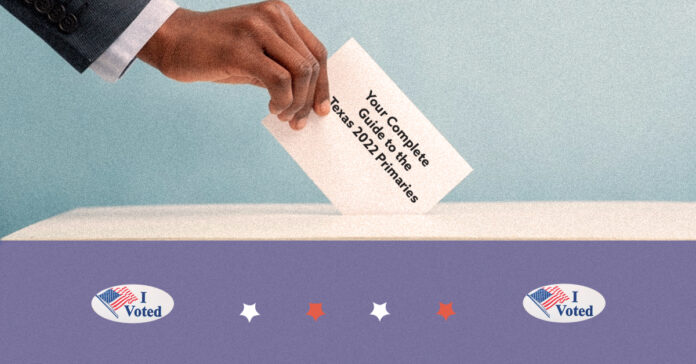 It's that time of the year again, election season is quickly approaching and that only means one thing, politicians are starting their campaigns within their own parties in order to achive a nomination and be able to compete, keeping track of each race can be kind of hard, which is why at Reform Austin we've managed to create a complete guide of the Texas election's primaries.
With the candidate filing period for Texas races having closed Monday evening, the shape of the elections next year are set. While there were many late developments, there were not too many surprise candidate filings. The party primaries are scheduled for March 1, 2022, barring any court orders from the redistricting lawsuits, and the general election will be held on Nov. 8, 2022.
The Secretary of State will release an official list of candidates next week.
Non-judicial statewide incumbents all face primary and general election challenges, with one open seat for the Commissioner of the General Land Office, as incumbent George P. Bush is challenging Attorney General Ken Paxton in the GOP primary. All three incumbents on the all-Republican Texas Supreme Court that are up for election are running, including Abbott's appointee, Evan Young, who replaced Eva Guzman when she resigned to run for Attorney General. Only Young faces a primary challenge while the other two Texas Supreme Court Justices face Democrats in the general election.
The 36-member congressional delegation has half a dozen vacancies in addition to new congressional seats due to population growth. A dozen incumbents are not facing primary challenges, seven Republicans and four Democrats. Three Republicans are facing neither a general election nor primary challenges, guaranteeing re-election; Jodey Arrington, Roger Williams, and August Pfluger.
After a redistricting special session shoring up the Republican majority and a grueling year of red-meat politics, 30 state House and Senate members (19 Republicans and 11 Democrats) are not returning to office next year. Eighteen retirements and a dozen members are seeking another office, some in the other chamber, some in Congress and in two cases, local executive office. Much has been written about the loss of the moderate in the Texas Legislature as the most centrist Republicans have decided to leave in both chambers. Chairmen Kel Seliger (R-Amarillo), Jane Nelson (R-Flower Mound) and Larry Taylor (R-Friendswood) in the Senate and Chairmen Chris Paddie (R-Marshall), Jim Murphy (R-Houston), Dan Huberty (R-Humble) and state Rep. Lyle Larson (R-San Antonio) in the House.
At the time of publication, 86 state House and 23 state Senate members are not facing primary challenges. Ten incumbent state Senators (six Republicans and four Democrats) and 46 state Reps. (23 Republicans and 23 Democrats) are guaranteed re-election after drawing no opponents.
The State Board of Education (SBoE) has three vacancies, one Republican who was paired into a Democratic district during redistricting and two Democrats. Of the Democrats, Lawrence Allen is running again for House District 26 opting not to seek re-election, while Georgina Perez did not file by the deadline, presumably due to her new appointment to the board of directors of the Network for Public Education. Matt Robinson is the Republican who drew the ire of legislators for his record against charter schools as a board member and was drawn into Allen's seat. Six incumbents face no primary challenge while three face no general election challenge. Only two incumbents, Republicans Tom Maynard and Chair Kevin Ellis, face no primary or general election opponents guaranteeing their re-election.
Here are the highlights of statewide and legislative races:
Governor
The top-of-ticket is the Texas Governor's race, where Gov. Abbott faces his first serious primary challenge in his 25-year political career. His primary has drawn the likes of former Texas GOP Chair Allen West and former state Sen. Don Huffines. YouTuber Chad Prather, philanthropist Kandy Kaye Horn, businessman Daniel Harrison and criminal defense attorney Paul Belew round out the large primary.
The final day of candidate filing created a moment of confusion for political observers when a "Rick Perry" was listed as joining the primary. It was quickly confirmed that it was not in fact the former Governor and Energy Secretary, but a Springtown conservative activist by the name of Ricky Lynn Perry, who was being supported by an Abbott critic aligned with the same fringe of the party that brought Huffines and West to challenge the apparent leader of the party.
The rest of the primary challengers are also attacking Abbott from his right, in part motivated by his COVID-19 policies at the beginning of pandemic in 2020 drawing the ire of the Republican base.
On the Democratic side, former Congressman Beto O'Rourke is the frontrunner of a primary which features Beaumont NAACP chapter president and pastor Michael Cooper, former Texas Standard reporter Joy Diaz, DFW engineer and attorney Rich Wakeland, and Inocencio Barrientez. O'Rourke's fundraising ability and historic performance in 2018, which garnered the highest percentage of votes by a Democratic statewide candidate in decades, and Abbott's vulnerability on the grid and on COVID-19 works to Beto's advantage. But he faces a midterm with a sitting Democratic president, which historically prefers the party not in power, and a much more difficult opponent in Greg Abbott, who has amassed a war chest of at least $55 million and is taking him seriously from the outset.
Lt. Governor
The most powerful office in Texas state government is the Lt. Governor's office, particularly when the Legislature is in session. Incumbent Dan Patrick is up for re-election, with some last-minute primary challenges and a few general election opponents who hope to overcome the 4.8-point loss in 2018.

In the Republican primary, Patrick faces Texas National Movement president Daniel Miller, former President of Texas Eagle Forum, Trayce Bradford, small business owner Aaron Sorrells, and Christian anti-abortion activist Todd Bullis from his right flank and moderate Zach Vance from his left.
In the Democratic primary, accountant and 2018 Democratic nominee for Lt. Gov. Mike Collier hopes to get a rematch with Patrick, but he faces a challenge from Texas Democratic Party Vice Chair Carla Brailey and state Rep. Michelle Beckley (D-Carrollton). Former Bush strategist Matthew Dowd dropped out a week before the deadline, allegedly to make way for a more diverse candidate pool.
Attorney General
Under the specter of an FBI investigation for bribery and a fraud indictment that has not killed him politically for two election cycles, Attorney General Ken Paxton has drawn a high-profile primary featuring Land Commissioner George P. Bush, former Texas Supreme Court Justice Eva Guzman, and Congressman Louie Gohmert (R-Tyler). Paxton hopes his endorsement from President Trump will help him survive his primary, but it remains unclear as each candidate has big-donor backing and, in Gohmert's case, conservative credentials that are difficult to ignore. Each candidate has used the legal troubles of Paxton to appeal to Republican voters, saying they should pick a candidate without the distractions and without the highest chance of losing to a Democrat in the general election, especially if an FBI criminal indictment comes down next year and his record of winning by the smallest margin of a statewide candidate in 2018 with 3.8 percent.
In the Democratic primary for the state's top lawyer, the frontrunners are former Galveston Mayor and grandson of a Watergate special prosecutor, Joe Jaworksi, who has been in the race the longest, former ACLU staff attorney Rochelle Garza, and civil rights attorney Lee Merritt. Rounding out the race is former Republican judge Mike Fields and Dallas attorney S. "T-Bone" Raynor.
Agricultural Commissioner
Republican incumbent Sid Miller has been in the middle of some embarrassing controversies during his tenure as Agricultural Commissioner, which might explain why the sole Republican African American member in the Texas Legislature, Chairman James White (R-Hillister), is mounting a primary challenge this election season. Joining Miller and White in the primary is Brenham college professor and rancher Carey Counsil.
On the Democratic aisle, Austin women's rights attorney, Susan Hays, who also owns a ranch in Alpine, appeared to be the presumptive nominee until a last-second filing from businessman Ed Ireson late Monday.
Land Commissioner
Filling the sole statewide vacancy for head of the General Land Office are two crowded primaries. In the Republican primary, frontrunner Sen. Dawn Buckingham (R-Lakeway), who sponsored the camping ban that criminalizes homelessness on public land, faces former Texas Real Estate Commissioner Weston Martinez, cardiovascular surgeon-attorney Jon Spiers, Rufus Lopez, Houston business consultant Ben Armenta, former ICE agent Victor Avila, attorney Don W. Minton and pastor Tim Westley.
In the Democratic primary, the frontrunner is King Ranch heir and conservationist Robert "Jay" Kleburg. He will face Houston investment manager Michael Lange, community organizer Jinny Suh, and mental health advocate Sandagrace Martinez.

Comptroller
The least bombastic and controversial non-judicial statewide race next year is probably the Comptroller of Public Accounts' office. Overseeing the state's treasury and the state's tax collection, incumbent Glenn Hegar appeared until very late in the filing period to have cleared any primary or general election opponents. However, on the final day, he received his sole primary opponent in Mark Goloby, a Houston oil and gas tech company executive. Issues likely to come up in the campaign are around transparency of school property tax abatement agreements and a controversial rule change to whom sales taxes for online sales get directed.
The Democratic primary features 2018 Democratic primary candidate Tim Mahoney, an attorney who was an aide to Texas' last Democratic statewide official, former Agricultural Commissioner Jim Hightower, certified public accountant and former House District 14 candidate Janet Dudding, and strategist and author Angel Luis Vega.
Railroad Commissioner
The office heading the state agency, whose name belies its function, looks to be another opportunity for the Democrats' critical messaging on the 2021 Winter Storm Uri grid failure to come into focus. Wayne Christian, who chairs the oil and gas state regulatory agency, has been under fire, along with his colleagues on the Railroad Commission, for misleading the public on the role of the gas industry in the February blackouts and protecting the industry's bottom line in return for padding their pockets instead of preventing another crisis should Texas be hit with extreme winter conditions next year.
In the Republican primary, Christian faces Dawayne Tipton, a veteran of deepwater drilling and pipeline projects, Thomas B. Slocum, an oil consultant who specializes in plugging old wells, Marvin "Sarge" Summers, and Sarah Stogner, an attorney who has represented landowners in front of the Railroad Commission regarding groundwater disputes with energy companies over gas wells.
The presumptive Democratic nominee is the lone filer Luke Warford, a former Texas Democratic Party staffer and current oil and gas consultant.
Texas Senate
The strength of Dan Patrick's hold on the Texas Senate and its 18-member Republican conference is at stake in 2022. Patrick seeks to expand his majority, with eyes on Tarrant County Sen. Beverly Powell's (D-Burleson) Senate District 10, which was redrawn from a purple district to one that would have voted for Trump by 15.8 points by adding six and a half rural counties, and retiring Sen. Eddie Lucio, Jr. (D-Brownsville), whose Senate District 27 is the last remaining battleground district left after a polarizing redistricting map was adopted. The Lt. Gov. is also picking the members who will replace his enemies, be they Democrat or Republican.
Powell is uncontested in the Democratic primary for SD-10, only filing in the last week after failing to prolong the filing period by court order in her lawsuit challenging the redistricting of SD-10. The Republican primary includes Patrick-endorsed state Rep. Phil King (R-Weatherford), a former police officer, and attorney Warren Norred, who once represented Dallas salon owner Shelley Luther when she re-opened her business in spite of local shutdown orders.
Turnover in the 31-member upper chamber has always had a much bigger impact. The Brownsville Democrat is one of five members, including three of the most-senior members of the upper chamber who will not be not returning to serve in 2023.
Lucio serves as Vice-Chair of the powerful Finance Committee, a position he gained just this last session in a show of loyalty by Patrick, who helped him survive his primary and runoff in 2020. Now that he is leaving, sooner than he probably expected and without being able to let his son, Eddie Lucio III, a chairman in the Texas House, take the mantle. It is up for grabs to anyone on both sides of the aisle, as it currently is the only redrawn Senate district where the presidential candidate in 2020 won under five points.

The Democratic primary for the open seat SD-27 features the following: attorney Sara Stapleton Barrera, the 2020 candidate who took Lucio to a runoff, state Rep. Alex Dominguez (D-Brownsville), who joined the race after being redrawn into a swing district by Republicans seeking inroads into South Texas, Harlingen attorney Morgan LaMantia, who has the ability to self-finance and has roots in the district due to her family business, and Harlingen business owner Salomon Torres.
The Republican primary for SD-27 has CFO Adan Hinojosa, Corpus Christi accountant Raul Torres, and parks maintenance staff Israel Salinas. Patrick has yet to endorse in the race, but opined upon Lucio's retirement that he wants a pro-life Senator as his replacement.

Another vacancy is Amarillo Republican Kel Seliger, who has frequently clashed with Dan Patrick over key priorities over his tenure and was pushed out of the Senate during redistricting in favor of a more malleable alternative in former TPPF board member and Midland oilman Kevin Sparks. Patrick even got Sparks a Trump endorsement following the adoption of the new Senate map. Facing Sparks in the GOP primary for Senate District 31 is Amarillo attorney Jesse Quackenbush, retired FBI agent and former Canyon ISD school board member Tim Reid, and Big Spring businesswoman and school board member Stormy Bradley.
Education Committee Chair Larry Taylor was also pushed out with what appears to be the blessing of Dan Patrick as he endorsed his likely successor this week, oilman, former TPPF board member and House Freedom Caucus chairman Mayes Middleton (R-Wallisville). Facing Middleton in the GOP primary for Senate District 11 is Texas GOP committeeman Dr. Robin Armstrong, Pasadena conservative activist Bianca Garcia and Bob Mitchell.
Another vacancy in the Texas Senate is Finance Committee Chair Jane Nelson. Running to replace her in the GOP primary is state Rep. Tan Parker (R-Flower Mound), and Dallas business owner Thomas Chris Russell. On the Democrat side are Francine Ly and Fredi Mongo.
The last vacancy in the Texas Senate is Dawn Buckingham, who is running for the open Land Commissioner seat. Senate District 24 was drawn to allow former Sen. Pete Flores to run in a safe district after he lost in the 2020 general election to Roland Gutierrez (D-San Antonio). Flores received Patrick's endorsement, but still faces GOP primary opponents in Lamar Lewis and home builder Raul Reyes. In the Democratic primary for SD-24, military veteran Jeremy Kohlwes and software engineering manager Kathy Jones Hospod have filed.
Democrats were intending to target Sens. Angela Paxton (R-McKinney) and Joan Huffman (R-Houston) due to the strong performance by Biden and O'Rourke in 2020 and 2018 in those districts, but both Senators' advantages have been shored up after redistricting to double digit Trump margins. Paxton is uncontested in the Senate District 6 primary and for the general election. Huffman meanwhile has two general election opponents in teacher Miguel Gonzalez and nonprofit executive Titus Benton who will face off in the Democratic primary.
Texas House
The Texas House primaries feature a polarized map after redistricting, where most of the battleground districts were made safer for the incumbents, leading to many more primary challenges from the left and right, two dozen vacancies, GOP attempts to make inroads in South Texas, while Democrats battle to maintain the size of their conference and retain their marginal influence when there is no Republican supermajority.
After redistricting, there were 20 districts under a ten percent 2020 presidential margin, eight are open seats, and nine districts within a five percent 2020 presidential margin, four of which are open seats.
Texas House Republicans made a lot of strategic decisions during redistricting. They aimed to flip certain districts in the suburbs, give up a few to shore up incumbents in other suburban districts, and try to flip a few South Texas districts.
In the Austin suburbs, while Erin Zwiener (D-Driftwood) in Hays County was ultimately protected during redistricting, James Talarico (D-Round Rock) of Williamson County's House District 52 was not. His district was changed into a Trump +4.7 percent district, which led him to abandon the district to run for an open seat in Travis County. In the race to replace him, the crowded GOP primary includes Texas GOP podcast host Jonathan Schober, former Texas Senate staffer Caroline Harris, Round Rock attorney and former Senate staffer Nelson Jarrin, and Patrick McGuinness. The sole Democrat to file is sales director Luis Echegaray.
In the Dallas-Fort Worth suburbs, Republicans redrew the open seat House District 65 left by Michelle Beckley, who is running for Lt. Governor, favorable to Republicans, where Trump won 8.3 percent of the district. Running to replace Beckley in the now Republican-leaning district in the GOP primary are former school board trustee Kronda Thimesch, who lost narrowly to Beckley in 2020, realtor Peyton Inge, and veteran Robert Cooksey. The sole Democrat running is social worker Brittney Virdell.
In Collin County, Republicans gave up House District 70, left by Scott Sanford (R-McKinney), in redistricting to shore up incumbents Jeff Leach (R-Plano) and Matt Shaheen (R-Plano). Running to replace Sanford in the crowded Democratic primary are 2020 House District 72 Democratic nominee Lorenzo Sanchez and former Texas House staffer Mihaela Plesa. Despite it being a Democratic-leaning district now, the GOP primary for HD-72 features Hayden Padgett, Jamee Jolly, and LaDale Buggs.
In Tarrant County, they gave up Jeff Cason's (R-Bedford) House District 92 to Democrats to shore up the open seat left by Matt Krause (R-Fort Worth) and the rest of the Republican Tarrant County incumbents. To replace Cason, a crowded Democratic primary includes architect Dinesh Sharma, attorney and former Euless city councilman Salman Bhojani, and President of Black Women's PAC Tracy Scott.
Republicans also changed House District 118 to be favorable to a Republican in a general election when they anticipated they could beat Democrats in a special election to replace Leo Pacheco (D-San Antonio), which they did with John Lujan (R-San Antonio). It is now a much more competitive race with Biden's 2020 performance only winning the redrawn district by 2.7 percentage points. Lujan is uncontested in the primary with the backing of the state Republican apparatus and faces the same challenger he beat in the special election runoff, Democratic party activist Frank Ramirez.
In trying to expand on a narrative first started by Trump's success in South Texas in 2020 and to deflect criticisms that it's a fluke, Texas Republicans are targeting at least four House seats. Two seats were transformed from Biden districts to Trump districts and the other two brought Biden's political performance down to under 5 points. They drew House District 80 held by Tracy King to a 4.3% Trump district but ultimately no Republicans filed. On the other hand, the redrawn House District 31, which is now a +24.9 Trump district, held by former Democrat Ryan Guillen (R-Rio Grande City) led to his party switch, but he still has a primary challenge in Mike Monreal and Alena Berlanga. One Democrat, Martha Gutierrez, has also filed for HD-31.
House District 37 in the Rio Grande Valley held by Rep. Alex Dominguez was made into a district Biden won only by 2.1 points. Since he is seeking the Senate open seat left by Eddie Lucio Jr., it is an open seat and an easier pickup opportunity for Republicans. The GOP primary includes frontrunner Janie Lopez, who was recruited by the state party, and George Rivera. Democratic candidates include SBoE member Ruben Cortez Jr., Luis Villareal Jr., and Frank Puente. They also redrew House District 74, held by Eddie Morales (D-Eagle Pass), into a district Biden won by 4.6 points. He faces no primary opponents but a Republican recruit Katherine Parker did file for the race in the last few days.
Republican state Reps. Angie Chen Button (R-Richardson), Morgan Meyer (R-Highland Park), Steve Allison (R-San Antonio), and Lacey Hull (R-Houston) were on the top of districts Democrats were targeting to flip before redistricting. All of them were shored up yet they still drew Democratic challengers. Here's who filed:
Challenging Chairwoman Button in House District 112 is consultant Elva Curl.
Challenging Chairman Meyer in House District 112 in the Democratic primary is Freda Heald and Elizabeth Ginbsurg.
Challenging freshman Lacey Hull is attorney Nora Stephanie Morales. Hull also drew a primary rematch with Josh Flynn, Harris County Department of Education trustee.

With the exits of former Public Education Committee Chairman Dan Huberty, San Antonio maverick Lyle Larson, State Affairs Committee Chairman Chris Paddie and House GOP Caucus Chairman Jim Murphy, the lower chamber loses four of its moderating influences in the Republican conference. The House also loses several members of the Freedom Caucus including Matt Krause, Mayes Middleton, and Jan. 6 DC rally-goer Kyle Biedermann.
Running to replace Huberty in safe-Republican House District 127 is Humble ISD board trustee Charles Cunningham and Kingwood businesswoman Deanna L. Robertson.
In San Antonio, there's a crowded GOP primary to replace Lyle Larson in House District 122. It features Adam Blanchard, Elisa Chan, Mark Dorazio, and Mark Cuthbert. Only one Democrat, Angi Aramburu, filed to run for HD-122.
Because Paddie announced his retirement during the third special session, it allowed Republican mapmakers to move another incumbent Trent Ashby (R-Lufkin) into House District 9 since population decline in East Texas meant losing one district to the urban and suburban growth of the state. Ashby is uncontested in the primary but faces the Democrat filer Jason Rogers in the general election.
Chairman Murphy's open seat in Houston is notable in part because it was the most competitive Republican House district after the Harris County delegation agreed to the map. His retirement was likely a sacrifice in negotiations to shore up other Harris County Republicans in battleground districts. Running to replace Murphy in the GOP primary for House District 133 are Hispanic Republicans of Texas president Emilio "Mano" DeAyala, who appears to be the frontrunner due to endorsements from Republican-affiliated PACs, Houston city councilman Greg Travis, Bert Keller, Shelley Barineau, and Will Franklin. The sole Democrat running in the race is Mohamad Maarouf, a program director for School Empowerment Network, an education nonprofit, who filed in the final hours before the deadline, perhaps a testament to the difficulty of Democrats finding candidates to run in a tough election year.
In Tarrant County, the race to replace Matt Krause (R-Arlington) in House District 93 features former Southlake mayor Laura Hill, Fort Worth city councilman Cary Moon, and Nathaniel Schatzline. The sole Democrat running is Tarrant County Democrat Party Asian American and Pacific Islander Committee Chair Kazi "KC" Chowdhury.
After Mayes Middleton announced for Senate District 11 a week ago, the primary to replace him in House District 23 has gotten crowded. The Republicans facing off on March 1 for his seat include a former Texas GOP SREC member and former SBoE member Terri Leo-Wilson, Galveston ER physician and Bronze Star Army veteran Abel Longoria, conservative activist Gina Smith, and Galveston lawyer and former legislative staffer Patrick Gurski. One Democrat, Texas City Commissioner Keith Henry, has also filed for HD-23.
To replace Kyle Biedermann in House District 73, the GOP primary features nonprofit executive and 2020 GOP nominee for House District 45 Carrie Isaac, New Braunfels attorney Barron Casteel, and retired teacher George Green. Democrat Justin Calhoun is also running.
In the only true pairing of incumbents in the Texas House map, Claudia Ordaz Perez was drawn out of House District 76, which was given to Fort Bend because of population changes, and paired with Lina Ortega. Ordaz Perez opted not to run against another Latina El Pasoan, but against Art Fierro in House District 79, which shares some constituencies with her old district. In the final hours before the deadline, she filed to run against Fierro in the only incumbent vs incumbent in a primary matchup in 2022.

Click here to see the full list of primary candidates in Texas statewide, congressional, state board of education and legislative races.