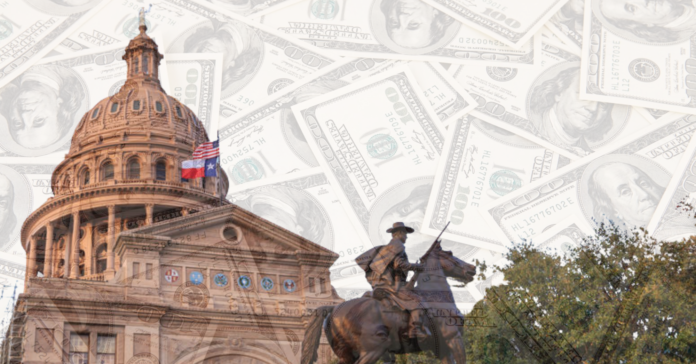 New campaign finance reports released this week by elected officials and candidates for statewide office begin to show GOP primaries will be expensive.
These semiannual reports cover the first six months of 2021, where elected officials were barred from fundraising except for the last 10 days of June.
Here are the highlights:
Governor
The Republican primary race in the Governor's race is lopsided, as was expected with the incumbent Gov. Abbott's record-breaking $55.1 million war chest. Abbott outraised everyone in the state with $20.9 million, of which $2.1 million was a transfer between his campaign accounts. Former State Sen. Don Huffines, who earlier claimed he raised $9.1 million, in fact only raised $4.1 million, self-financing his campaign with $500,000 and $4.5 million from a bank loan guaranteed by him. Abbott also outspent Huffines with $3 million spent over the first half of 2021, while Huffines spent $1.4 million. Huffines also maintains $7.6 million. The other challenger, former Texas GOP chair Allen West announced in early July, which is not covered in the latest finance reports.
A third challenger, TV commentator Chad Prather, raised just under $49,000, spent $23,000 and maintains $26,000 in hand.
Update: As of July 16, 5pm, Gov. Abbott's July filing became publicly available. His top donors included Dallas investor Kenny Troutt, Energy Transfer Partners CEO Kelcy Warren, Williams Bros. Construction CEO James Pitcock, Jr. and Cross Creek Ranch owners Michael & Mary Porter, all of whom wrote $1 million checks to his re-election campaign.
Attorney General
The Republican primary race in the Attorney General's race is perhaps the most competitive with each candidate and the incumbent raising more than a million dollars in the 10 day fundraising period. Land Commissioner George P. Bush outraised and outspent incumbent Ken Paxton and former Texas Supreme Court Justice Eva Guzman but has a much smaller war chest than the incumbent. Bush raised $2.3 million, while Paxton raised $1.8 million and Guzman raised $1.1 million. Bush spent $884 thousand, while Paxton spent $264,000 and Guzman spent $43,000. Paxton has $6.8 million cash on hand while Bush has $2.7 million and Guzman has $611,000.
While it might be expected that recent scandals of an FBI investigation, a whistleblower lawsuit and an alleged affair might have dispelled big GOP donors, Paxton received $100,000 checks each from Telecom businessman Kenny Troutt and biotechnology entrepreneur Darwin Deason, a $75,000 check from oilman Javaid Anwar, $50,000 checks from alleged sexual harasser Holly Frost and West Texas oilman Dan Wilks, and $25,000 checks from hotelier Monty Bennett and other far-right Empower Texans funders Kyle Stallings, Dick Saulsbury and Darlene Pendery.
George P. Bush's top donors included oilman Trevor Rees-Jones, attorney Arnulfo Eduardo Trevino Garza, and H.H. 'Tripp' Wommack III, who all wrote $100,000 checks. Also notable among his top donors was oilman Ray Hunt.
Guzman's top donors included tort reform group Texans for Lawsuit Reform (TLR), who contributed $200,000, home builder Richard Weekley, who chairs TLR and contributed $100,000, TRT Holdings Founder Robert Rowlings, who contributed $100,000, and long-time GOP donors Paul Foster, Drayton McLane and Stacy Hock, who each wrote $25,000 checks.
Agriculture Commissioner
Incumbent Sid Miller, who earlier opted against a rumored Governor bid to run for re-election, raised $72,000 in the 10 day period. His primary challenger, Chairman James White (R-Hilister) did not have a big showing, in part because he did not announce his statewide bid until the last day of the filing period, June 30. White raised $8,000.

Miller also spent $110,000 over the first half of 2021 and has $108,000 cash on hand. White spent $16,000 in the first six months of 2021 and has $63,000 cash on hand.
Land Commissioner
With George P. Bush running for a different statewide office, which leaves the Land Commissioner vacant. State Sen. Dawn Buckingham (R-Lakeway) announced her candidacy for heading GLO shortly after Bush announced his. She raised an impressive $588,000 in the last 10 days of June. She spent $155,000 in the first half of 2021 and has $1.6 million cash on hand.
The only other announced challenger is Republican Jon Spiers, who raised $19,000, spent $21,000 and has $119,000 cash on hand.
Lt. Governor
Lt. Gov. Dan Patrick so far has no primary challengers, but he still outraised his general election opponent Mike Collier, who he beat in 2018, by more than 5 to 1. Patrick raised $5 million in 10 days before the special session while Collier raised $757,000 throughout the first half of 2021.Patrick spent $827,000 and has a $23.6 million war chest. Meanwhile, Collier spent $509,000 and has $202,000 cash on hand.
Patrick's largest contributors included oilman Douglas Scharbauer, who wrote a $250,000 check, the Williams Brothers construction company chairman James Pitcock Jr., who wrote a $200,000 check, and Drayton McLane and Kenny Troutt, who each wrote a $150,000 check.
Collier's largest donors included investor Austin Ligon, who gave $25,000, and Dallas area investor Stephen Davis, who gave $20,000.