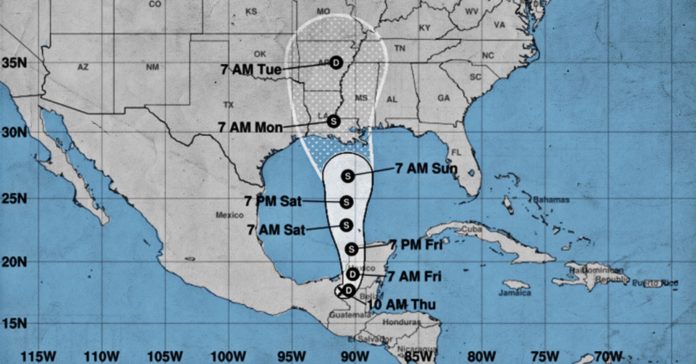 Gov. Greg Abbott is encouraging residents within 50 miles of the Sabine River in east Texas to prepare now for possible flooding.
As of Friday, Abbott expected Tropical Storm Cristobal to be a heavy rain and high wind event for deep southeast Texas, but he cautioned that it is possible Cristobal could turn into a hurricane as it travels across warm water on its way to the gulf coast.
Landfall is expected Sunday.
"There could be rising water coming up, and there could be short notice of evacuation," said Abbott. "We don't know right now what may be needed. The time to get ready is for a very quick evacuation would be right now, knowing that the time for that evacuation could be Sunday or it could be Monday."
Chief of the Texas Division of Emergency Management Nim Kidd said concerns about COVID-19 are driving the need to prepare for earlier evacuations.
"We cannot have any missteps in evacuation," Kidd said. "As the governor mentioned, we want safe evacuations, and the way we used to put 50 people on a bus, that number may be down to 15 now."
Abbott said the state has been in communication with emergency management staff at the local level to remind them to approach this strategically to ensure that response efforts do not lead to further spread of COVID-19.
Texas National Guard troops, Texas Task Force One and Two units and Texas game wardens are on standby with high-water rescue vehicles, helicopters, swift water rescue boats and chainsaws to help with timber removal in the heavily wooded east Texas areas. In addition, the Texas Department of Public Safety is ready with tactical marine units to assist with search and rescue operations.
A tropical storm watch that from Intracoastal City, La., east to the Alabama-Florida border was issued Friday.
Cristobal is moving north at 12 mph with maximum sustained winds of 40 mph, according to the National Hurricane Center.
Coastal residents from east Texas to the Florida Panhandle could expect to see tropical storm force winds over the weekend. There's also the potential for "dangerous storm surge from Louisiana to the Florida Big Bend," according to the National Hurricane Center.