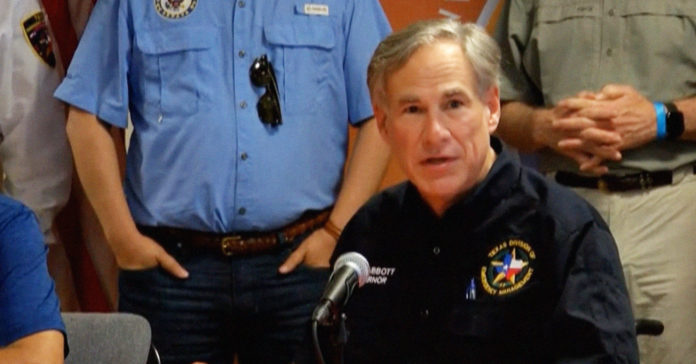 Gov. Greg Abbott, Lt. Gov. Dan Patrick and U.S. Sens. John Cornyn and Ted Cruz traveled to southeast Texas Thursday to survey damage from Hurricane Laura. They took flight in a helicopter provided by the U.S. Coast Guard at mid-morning and then held a media briefing. Abbott said from what he saw, the worst damage in Texas appears to be in the city of Orange, the state's easternmost city. He described rooftops ripped off or missing shingles, downed trees, mangled steel framing and roads still under water and impassable.
"We dodged a bullet. It could have been far worse," said Abbott.
Abbott said he has received an unconfirmed report of one death in Texas from Laura. That is the only report he has gotten regarding any loss of life.
"If we make it through a Category 4 hurricane that ripped through the coastline all the way up to the Texarkana area, and we have been able to have minimal or perhaps no loss of life, that is a miracle. It shows that prayers were answered," he said.
The governor credited the evacuation decisions made by local officials and residents heeding those decisions as reasons why the loss of life was minimized. He said it is equally important for residents to listen to local officials about when it is safe to return home.
Laura came ashore near Cameron, La., about 30 miles east of the Texas-Louisiana border as a Category 4 hurricane with a storm surge of about 3.5 feet at Sabine Pass.
As of Thursday afternoon, 160,000 people in Texas were without power. The majority of the outages appeared to be in Beaumont, Port Arthur, Orange and Silsbee, Texas. Entergy Texas began moving crews into affected areas early Thursday and will be assessing damage throughout the day. Crews will begin restoring power where it is possible to do so.
There had been predictions before the storm that power outages could last for weeks. Texas Division of Emergency Management Chief Nim Kidd said it is too early to know if that will be the case. He says rebuilding the high voltage transmission lines takes the longest to repair. He repeated the warning to not use a generator inside the home.