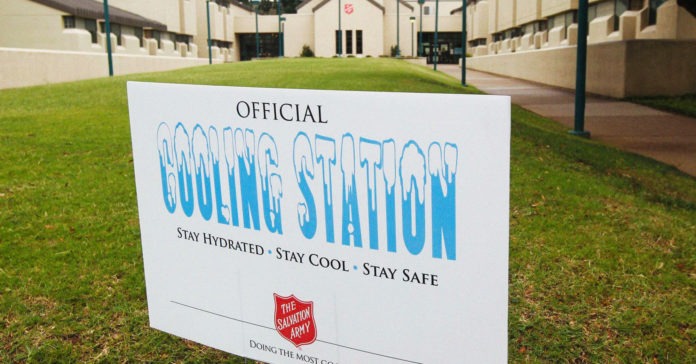 Reliant, the Salvation Army and cities in Texas are working to provide heat relief for Texans this summer. Together, they have opened 13 cooling stations throughout North Texas. A cooling station is a space, inside or outside, where people can find water, air conditioning, and fans to beat the heat.
Gloves, sanitizer, and social distancing measures are in place. Along with water, drive-thru groceries are available for people in need.
"As part of our annual Beat the Heat program, Reliant is joining with the Salvation Army to provide safe spaces for our fellow Texans to combat the extreme heat. No matter what summer has in store, Reliant will be here to support our neighbors and the communities where we live and work," Reliant President Elizabeth Killinger said.
This year is especially critical to reaching those who need it, Major Todd Hawks, area commander for the Salvation Army of North Texas said.
"Unfortunately, the health and economic crises have been especially devastating for our vulnerable neighbors," Hawks said.
San Antonio
San Antonio has opened 28 cooling stations at libraries and senior centers, but they are receiving fewer visitors than expected.
Roland Martinez with the city's Department of Human Services told the San Antonio Express-News that there were just a handful of community members visiting West End Park Senior Center to cool off. 
Corpus Christi
Reliant's Beat the Heat Centers in Corpus Christi will provide residents with cooling devices and snacks. Here is a list of upcoming beat the heat events. The next one is Saturday.
Houston
The city of Houston is also joining with Reliant for its annual Beat the Heat program. However, there won't be typical cooling centers this summer because of the pandemic, according to a press release. 
"Although we won't be opening the cooling centers as usual to help keep people socially distant, I'm proud we have come up with a way to still make sure Houstonians can keep cool during the summer," said Mayor Sylvester Turner.
Care packages and portable air conditioning units are being made available for seniors and other vulnerable residents. Available supplies include wall thermometers, cooling cloths and bottled water.
What if you or a loved one has heat exhaustion? Symptoms include faintness, dizziness, excessive sweating, nausea or vomiting, cool or clammy skin, muscle cramps and a rapid pulse, the Houston Health Department says. If you are experiencing these symptoms, try to lower your body temperature by getting to a cooler place, drinking water, resting or taking a cool shower or bath.
Here are more articles on beating the heat and protecting your health this summer:
Ways to Fuel Your Immune System — Not Just to Fight Off the Coronavirus