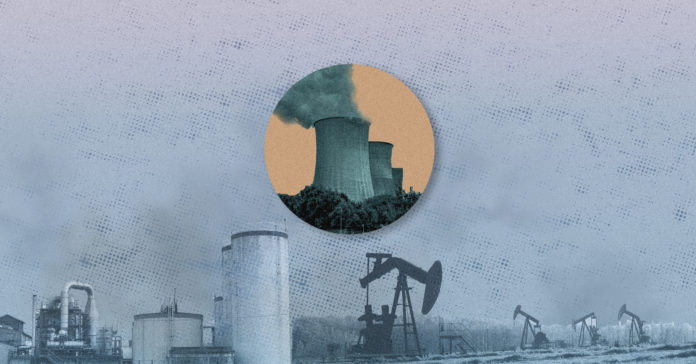 With Hurricane Laura threatening the Gulf Coast region, the oil refineries and petrochemical plants that stretch across the Houston area and Southeast Texas took their customary precautions of shutting down operations. In doing so, they released about 4 million pounds of pollutants into the air.
In reports to the Texas Commission on Environmental Quality, the Beaumont Gas to Gasoline Plant announced the release 3.5 million pounds of carbon dioxide, and the Motiva Chemicals plant in nearby Port Arthur reported that it would release more than 130,000 pounds of polluting chemicals, including benzene, a known cancer-causing substance.
Instead, Motiva's emissions totaled nearly 90 tons, including a half-ton of benzene. The plant reported releasing more hazardous pollutants during the hurricane than it did in all of 2018.
Environmental groups are growing increasingly alarmed at the health risks to nearby residents as a result of shutdown and startup pollution releases. The pollution releases due to Hurricane Laura were anticipated to be about half the amount released during Hurricane Harvey in 2017.
Equipment breakdowns, process malfunctions or operator error during the startup and shutdown of equipment can cause unauthorized pollution releases, according to Environment Texas, an environmental watchdog group.
Any unauthorized pollution releases are considered air quality violations and must be reported to the TCEQ, according to the environmental group.
Besides benzene, the hurricane pollution dump included compounds such as nitrogen oxides, contributors to higher ozone levels that can cause respiratory problems, and carbon dioxide, a greenhouse gas propelling climate change.
"Texans are increasingly vulnerable to climate-change fueled severe weather — and the preponderance of chemical and fossil fuel facilities compounds the risks to our public health and environment," said Catherine Fraser, a clean air associate with Environment Texas.
"Poor public policies have created a lose-lose situation here," Fraser said. "Either these facilities shut down ahead of a hurricane and release a ton of pollution or stay on and potentially release even more pollution — or even catch fire."
"For our neighbors already dealing with COVID-19, it's too much," she said.
The pre-release reports by the plants might be "worst-case scenarios," and the actual releases may be smaller, said Dr. Ivan Rusyn, the KC Donnely Professor of Veterinary Integrative Biosciences, chair of Interdisciplinary Faculty of Toxicology and director of the Superfund Research Center at Texas A&M University.
Yet experts say planned plant shutdowns and the release of pollutants are considered the safer alternative to an emergency shutdown in the event of power loss, flooding or chemical explosion.
"Facility shutdowns ahead of major storms that may impact certain industrial areas are the current best practice," said Rusyn.
"While the potential release of hazardous air pollutants do occur during shutdown and startup, the potential risks from an uncontrolled catastrophic event in case of a power loss or flooding are thought to be far greater," said Rusyn, who has both doctorate and medical degrees.
"Facilities that plan shutdowns are required to report the extent of any planned releases to the authorities and the health risks, if any, can be estimated and mitigated, as opposed to the emergency releases that will likely involve damage to property, loss of life and release of unknown quantities of hazardous pollutants," he said.
Research by academics, government agencies and the industry are ongoing in the hopes of improving the process, he said.
After the threat of Hurricane Laura passed, the TCEQ dispatched a mobile monitoring van, equipped with rapid assessment technology to measure air quality in neighborhoods near industrial plants in Beaumont, Port Arthur, Port Neches and Groves in Jefferson County in Southeast Texas.
"To date, TCEQ's mobile monitoring surveys have not detected concentrations of concern," the agency announced in a statement on Sept. 1. "The agency continues to monitor air quality to assess any potential impacts to human health and the environment."
But as the hurricane approached land, stationary air monitors were taken offline because they are unable to withstand hurricane-force winds. All stationary monitors were operating in Houston by the evening of Aug. 28, and stations with power in the Beaumont-Port Arthur area were operating by Aug. 31. 
While Texas dodged most of the fury of Hurricane Laura, precautionary measures are still critical, Rusyn said.
"Numerous examples of incorrect or mistimed shutdowns that led to catastrophic industrial accidents exist, the most recent being the Arkema plant explosion in Crosby, Texas, during Harvey in 2017," Rusyn said.
"Additional resources are needed from all stakeholders to conduct air quality measurements at potentially impacted communities and to provide scientific data to inform and trigger health protective actions, if needed," he said.
For environmental groups, the ultimate solution is clean energy and less use of fossil fuels.
"With clean energy and modern technology, we can do things to mitigate climate change and minimize our reliance on dangerous chemicals and fossil fuels," Fraser said. "When we're done cleaning up this mess, we need to take a step back and figure out how we can prevent or minimize disasters like this in the future."