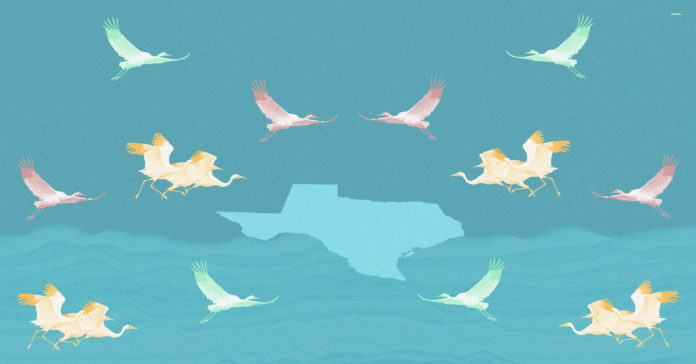 The tallest bird in America, the rare and endangered whooping crane, is returning to the Texas coast, as they do every year from November to March.  Whooping cranes have very long legs and stand five feet tall. They have a 7-foot wingspan, and when flying, the primary black wing feathers can be seen. 

While there are some look-alike birds, you can identify a whooping crane by looking for rust-colored patches on top of the crane's head.
Whooping cranes live in wetlands and agricultural fields where they are able to find plenty of blue crabs, clams, minnows and berries to eat. 
Conservation Efforts
In the 1940s, there were fewer than 20 whooping cranes in existence, putting them on the brink of extinction.
Due to conservation efforts, the number of whooping cranes has increased to 506, according to the Texas Parks and Wildlife Department. 
Every year, whooping cranes travel for 50 days from northern Alberta's Wood Buffalo National Park to Aransas National Wildlife Refuge near Rockport. They travel through Dallas-Fort Worth, Waco and Austin before concluding their winter migration along Texas' coastal marshes. 
Sightings
The first whooping cranes of the season were spotted in the Seadrift area on Oct. 19, according to U.S. Fish and Wildlife Service Whooping Crane Coordinator at the Aransas National Wildlife Refuge Wade Harrell.
"For the most part, all of the banded birds have moved out of Canada, but some are still as far north as the Dakotas and still in migration," said Harrell. "Typically, we don't have all the birds on the Texas Coast until December, so November is often our big month for migration sightings here in Texas."
If you are planning to take some time to enjoy the presence of these birds, do so before they begin to migrate north in the spring, from March to early April.
Threats to whooping cranes are human-made: power lines, illegal hunting and habitat loss. It is illegal to disturb or harass them. 
Click here to learn more about the whooping cranes and sightings in Texas, and click here for information on protecting these birds.